Is it time for you to try something new with your hair? The quiff is the only hairstyle you need to consider. The quiff is a flexible haircut that can take your appearance from boring to spectacular with its strong and edgy appeal.
Here are 10 incredible variations on the quiff hairstyle that are sure to blow your mind and motivate you to change things up a little. These stunning quiff cuts are sure to get you noticed.
1. The Classic Quiff
Get things rolling with an enduring staple. The classic quiff involves elongating the top of the head and sweeping it back while shortening the sides and back. This classic appearance is appropriate for any event since it communicates self-assurance and class.
2. The Textured Quiff
Choose a textured quiff for a contemporary take on the classic style. For a casual and cool look, add some texture to the top portion with a texturizing spray or salt spray, and then style hair in a little chaotic fashion. If you want to keep things casual, this is the style for you.
3. The Undercut Quiff
For a cool, on-trend look, try a hybrid of the undercut and the quiff. Keep your hair short on the sides and back of your head and longer on top to produce a quiff. This extreme difference in length gives your outfit an air of drama and confidence.
4. The Tapered Quiff
The tapered quiff is the way to go if you want a quiff that blends in with the rest of your haircut. This cut is shorter on top and longer on the sides and back. The end effect is a seamless change that is both elegant and sophisticated.
5. The Side-Swept Quiff
The side-swept quiff is an edgier and more contemporary spin on the classic quiff. Instead of wearing your hair in a traditional updo, try sweeping it to one side for a more interesting and attention-grabbing style. This cut is perfect for those with longer hair, and it will make you seem more refined and attractive.
6. The Short Quiff
Who says only guys with long hair can rock the quiff? Those who desire to sport the quiff but have shorter hair may do so with the short quiff. Style the top piece of your hair to be a little longer than the rest, and then flip it up and backward to create a charming little quiff.
7. The Bold Quiff with Color
Are you prepared to make a stand? Use a vibrant hair color in conjunction with your quiff to turn heads. Whether you choose bright highlights, an ombre effect, or a full head of brilliant color, spicing up your quiff with a splash of color is a quick and easy way to update your look and display your individuality.
8. The Retro Quiff
Putting your hair in a quiff is a surefire way to feel like you've been transported back to the heyday of rock 'n' roll. A nod to the '50s and '60s, this cut has a full, fluffy top and smooth, combed-back sides. Complete the ensemble with a leather jacket and a pair of vintage sunglasses.
9. The Messy Quiff
Sport a sloppy quiff to show that you're not trying too hard to be cool. Hair in this style is intentionally left messy and tangled to give off an air of rustic elegance. Create a sloppy, undone quiff with a texturizing product and your fingers, ideal for a night out or a chill day with friends.
10. The Quiff with a Twist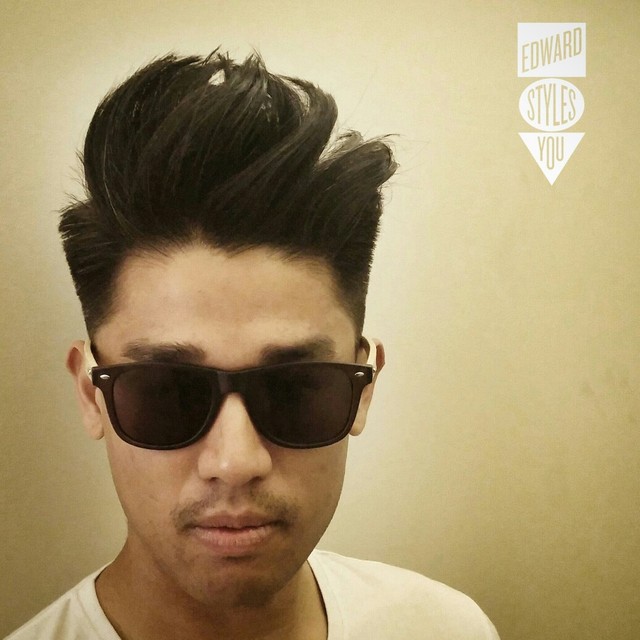 Try out new methods of styling your hair for an original and eye-catching quiff. To make your quiff more interesting to look at, try styling it in braids, twists, or elaborate designs. Create a piece of art out of your quiff by letting your creativity run wild.
Frequently Ask Questions