As a guest, you'll want to look your best at a beach wedding because of the beautiful setting. Finding the ideal beach dress is crucial whether you're going to a wedding in the tropics or one on the coast.
Here are 10 stunning beach gowns that will make a statement at whatever wedding you attend. The distinctive details of each dress guarantee that you'll turn heads as you toast your love by the water.
1. Ethereal Maxi Dress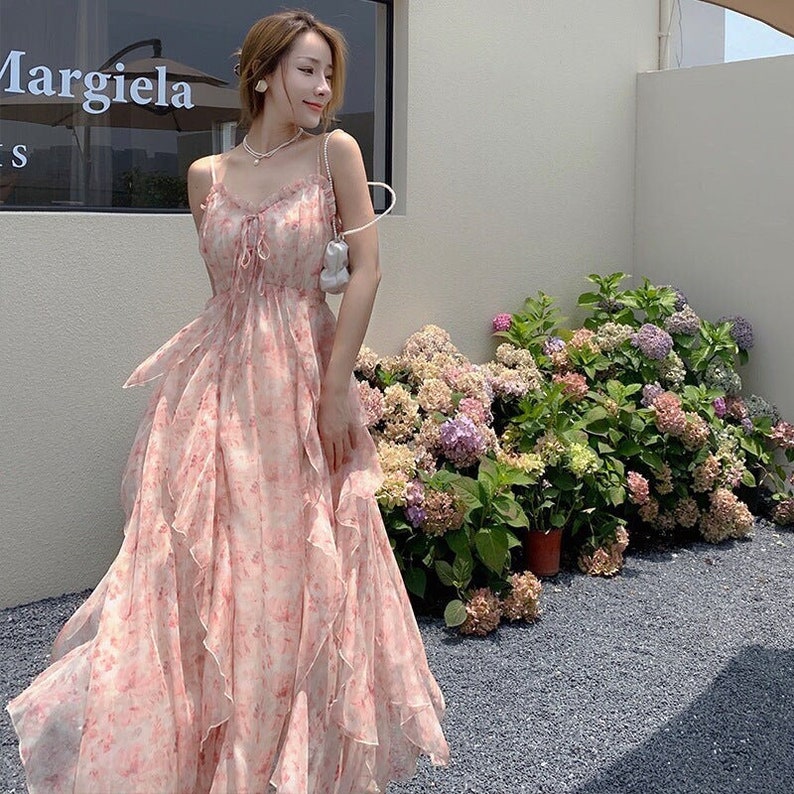 Characteristics: This kind of dress is characterized by a loose, floor-sweeping form, a light and airy fabric, and elaborate lace or embroidery. Colors are often muted or earthy, making it an ideal choice for a wedding on the sand.
Why it turns heads: The airy maxi dress conjures images of ethereal beauty and easy sophistication. The flowing fabric and intricate embellishments would be the highlight of any seaside ceremony.
2. Vibrant Wrap Dress
Characteristics: Wrap dresses are universally admired for their figure-flattering design, which has a defined waist and a flowing skirt. Dress for a seaside wedding in bright flower designs or basic hues.
Why it turns heads: The bright wrap dress gives off an upbeat and carefree air, perfect for a wedding. Because of its adaptability and body-flattering cut, it is often requested by visitors who care about their appearance.
3. Bohemian Off-Shoulder Dress
Characteristics: The neckline of this dress is cut away from the shoulders, and it often has ruffles or other bohemian accents. Made from airy materials like chiffon or cotton, it's perfect for a balmy ceremony on the sand.
Why it turns heads: The bohemian off-shoulder dress is the perfect combination of laid-back elegance and boho flair. The attention it draws is instantly whimsical and charming thanks to the dress's feminine embellishments and loose fit.
4. Elegant Halter Dress
Characteristics: The high front and low back of a halter dress make it an elegant and desirable choice. Choose a fluid fabric like silk or satin for a sophisticated look.
Why it turns heads: The halter dress's classic allure and sophisticated glitz are immediately apparent. It's a stunning option for a seaside wedding because of the mix of a low-cut neckline and a backless style.
5. Playful Sundress
Characteristics: A sundress is an informal daytime dress that is often knee-length or longer and has a looser fit. Patterns with tropical motifs or nautical stripes capture the carefree vibe of a beach vacation.
Why it turns heads: The bright sundress is perfect for a beachside nuptial because of its carefree and happy spirit. It's bold patterns and striking silhouette give off an air of youthful abandon.
6. Timeless Wrap Midi Dress
Characteristics: This is a midi-length wrap dress, a modern take on the timeless style. Typically constructed from airy materials like linen or cotton, it has a wraparound waist tie and a pleated skirt.
Why it turns heads: The iconic wrap midi dress seamlessly marries sophistication with ease. The elegant A-line cut and knee-length skirt make it a timeless choice for beach weddings.
7. Statement One-Shoulder Dress
Characteristics: This kind of dress has one strap over the shoulder and is often accessorized with ruffles or sequins. If you want to make a statement, wear bright colors or shiny textiles.
Why it turns heads: The one-shoulder dress is a head-turning option for people who wish to make a bold fashion statement. Its dramatic and elegant appearance is the result of its asymmetrical shape and attention-grabbing features.
8. The Chic Jumpsuit
Characteristics: A jumpsuit is a fashionable alternative to a dress that combines the silhouette of a tunic with the ease of pants. For a wedding on the sand, use lightweight textiles in bright colors.
Why it turns heads: The stylish jumpsuit is a fresh take on the traditional beach wedding dress. It's a risky pick, but its streamlined form and startling grace make it a compelling option.
9. The Romantic Lace Dress
Characteristics: This dress has elaborate lace elements, such as patterns and scalloped edging. If you're going for a romantic vibe, stick to muted colors or pastels.
Why it turns heads: The lace dress is the epitome of classic femininity and romance. The translucent fabric and careful stitching give it a magical air that is guaranteed to draw admiring glances.
10. Effortless Boho Maxi Dress
Characteristics: The characteristics of a boho maxi dress include an oversized cut, flowery patterns, and flowy materials like chiffon or cotton. Choose a dress with a plunging neckline or a slinky silhouette.
Why it turns heads: The boho maxi dress exudes a casual, elegant bohemian vibe. The natural tones and airy silhouette make this a stunning option for destination weddings on the beach.
Conclusion
The beach wedding you're invited to is your chance to wear a show-stopping gown and steal the show. There is a dress for every design sense, from flowy maxis and wraps to off-the-shoulder looks and stylish jumpsuits. Pick a dress that makes you feel beautiful and expresses your style for a statement you can be proud to make at any beach wedding.
Frequently Ask Questions