The use of heat styling tools may help you get gorgeous curls, but it also poses a risk to your hair. Check out heatless hair curlers if you want beautiful curls without the risk of harming your hair.
Hair curlers that don't generate heat are called heatless hair curlers. Instead, they resort to techniques that make use of tension, friction, or even gravity to get the required wave pattern.
Different Types of Heatless Hair Curlers
You can pick a heatless hair curler that works with your hair type and desired look since there are numerous to choose from. Here are a few examples of well-liked heatless curlers:
These curlers are constructed from a pliable velcro-like material that securely holds hair in place as you style it. They may be worn for many hours or even overnight with no problems. The only hair type for which Velcro curlers could be excessively tight is fine hair.
The foam cushioning on these curlers is really kind to your hair. They come in different sizes, allowing you to achieve various curl effects. Although foam curlers work well on all hair types, they may not be as effective at maintaining curls as other options.
These satin curlers are designed to be gentle on your hair and shield it from breakage. They come in different sizes, allowing you to achieve various curl effects. All hair types may benefit from using pillow rollers, although it may take longer for them to set than with other curling tools.
These curlers may be found in a wide range of sizes and forms and can be constructed of metal or plastic. Curls, waves, and even spirals may be achieved with their help. Curling rods work well on any kind of hair, but they take some effort to master.
These headbands aid in the formation of waves and curls thanks to their integrated rollers. If you have long hair, these sleepwear options are a great choice. Although headbands work well with many hair types, they may not keep curls as effectively as other tools.
Best Heatless Hair Curlers
If you want salon-quality curls without the risk of heat damage, try using heatless hair curlers. It might be difficult to choose the best heatless curlers from the wide variety on the market. The top heatless hair curlers include the following:
Kitsch Satin Heatless Curling Set
If you're looking for a versatile set, this is it. You may achieve a range of curl sizes with the 12 included rollers. The satin rollers' plush construction and finish protects hair from breakage and frizz.
The Vintage Cosmetic Company Satin Heatless Foam Curler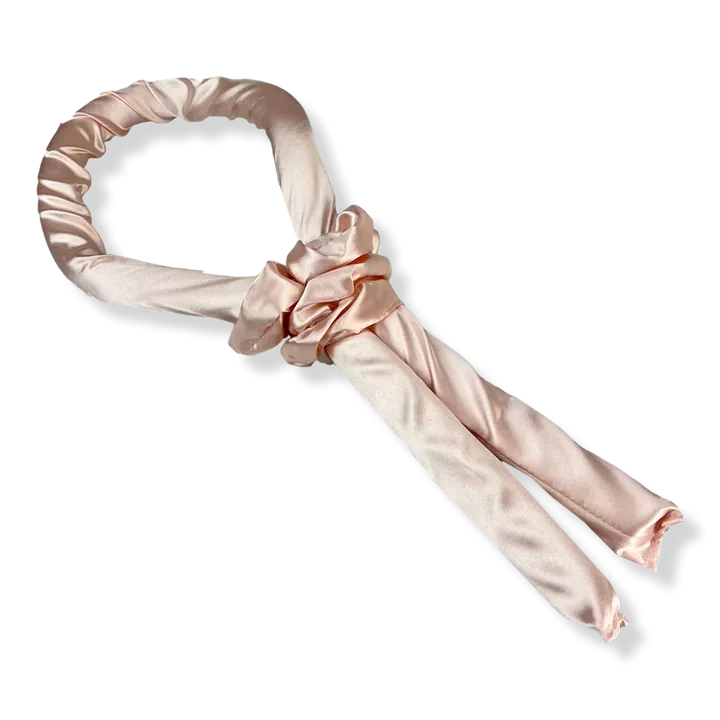 If you need curlers but are on a tighter budget, consider these. The cushioning is constructed of a soft foam that is easy on the hair. They come in different diameters so you may get different curl effects.
RobeCurls The Original Curling Headband
If your hair is on the longer side, consider this headband as an alternative. It contains built-in rollers that aid in the creation of waves and curls and is crafted from a plush satin fabric.
Magic Hair Rollers
If your hair is on the fine side, these rollers are a good choice. Curls may be made to seem more natural with the aid of these tiny, bendable rods.
Heatless Magic Hair Rollers Wave and Spiral
If your hair is short, you should try these rollers. Shapes like spirals and waves are available so that you may experiment with different styles.
Benefits of Using Heatless Hair Curlers
If you want salon-quality curls without the risk of heat damage, try using heatless hair curlers. Using heatless hair curlers has several advantages.
Reduced hair damage: Dry, brittle, and easily broken hair might be the result of regularly using heat styling tools. Curlers that don't generate heat are far less harsh on your hair.
More natural-looking curls: Curls that have been styled with the heat often end up looking too perfect and fake. Curls created using heatless hair curlers are gentler to the touch and seem more natural.
More time-saving: You may save time in the morning by using heatless hair curlers, which can be kept in the hair for hours or even overnight.
More affordable: The price of heatless hair curlers is much lower than that of their heated counterparts. Curlers that don't need heat may be found for less than twenty dollars.
More versatile: Curls ranging from loose waves to tight curls may be achieved with the use of heatless hair curlers.
Tips for Using Heatless Hair Curlers
Pick a curling iron that works well with your hair texture. You'll want a curling iron that can retain more hair if yours is thick and coarse. If your hair is thin and delicate, you should look for a softer curler that won't weigh it down.
Wear a heat-resistant spray. This will prevent your hair from being damaged by the heat used to style it.
Get your hair clean and dry first. Doing so will improve the curlers' ability to hold your hair.
Use just a little bit of styling aid. This will aid in maintaining the shape of your curls.
Use the curling iron to coil your hair. One should begin from the foundation and work their way to the surface.
Use a clip to keep the curler in place. Doing so will keep the curl from unwinding.
The recommended time to use curling irons is 30 minutes. Curls get tighter the longer they are in the curlers.
Put away the hair rollers. After the allotted amount of time has gone, take out the curlers and give your hair a little shake to release the hair.
Spray a little hairspray on top to finish. You may use this to keep your curls in place.