The back and sides of a man's hair are tapered or faded from shorter to longer in two common haircut styles: the bald fade and the standard fade. However, there are significant distinctions between these two kinds of fades.
The most obvious distinction is that a bald fade cuts hair so short that it's almost touching the skin on the sides and back.
The hair on the sides and back is cut shorter than the top, but not all the way to the scalp, for a typical fade. Instead of growing entirely bald, this leaves a little patch of hair at the base of the sides and back.
How Each Fade is Cut
The top layer of hair is typically left longer for a bald fade cut, anywhere from 2 to 6 inches. The hair is then gradually tapered down with clippers, beginning at the crown of the head and ending at the neck and sideburns.
Using a #1 length guard as a starting point, they work their way down through the guards until they're cutting the hair close to the skin. The longer hair on top contrasts sharply with the bare flesh on the sides and back.
The top hair can be any length with a conventional fade, but the tapering is done in a different way. In a similar fashion, the barber will begin with a longer clipper guard, such as a #3 or #4, and gradually work his way down to a shorter guard, such as a #1 or #2. However, they do not reveal the bare flesh of the sides or back.
The lower part of the taper is left with some stubble or extremely short hair. The top and sides contrast is not as extreme as with a bald fade.
Bald vs. Regular Fade Pros and Cons
The adaptability of the bald fade is one of its greatest strengths. The bald fade is a versatile haircut that may be used to upgrade the appearance of any men's hairdo, from short crops to curly afros.
Since the sides and back have been closely faded, it gives you a blank canvas to work with when arranging your hair on top. The top hair is also highlighted by the high contrast style.
One possible drawback is the constant upkeep that a bald fade may need. Any growth on the sides or back becomes immediately noticeable because the hair is tapered down to the skin.
A bald fade requires maintenance trimming roughly once every two weeks for most guys. Additionally, it may not be as effective for those with particularly curly or coarse hair.
Because the hair that is left at the bottom conceals new growth, a regular fade can extend the time between haircuts to as long as four weeks. It's an improvement over a bald fade since it blends the top and sides more seamlessly. On excessively curly or wavy hair, a regular fade may also be easier to manage.
However, a bald fade has more dramatic contrast than a standard fade. Not revealing as much skin on the side and rear of the head gives it a softer, more modest look. The stylistic options available to you are more limited than with a bald fade.
Best Face Shapes for Each
A bald fade or a standard fade may work better than the other for some facial shapes.
Oval, triangular, and diamond shaped male faces are the most flattering while sporting a bald fade.
A bald fade's sleek, streamlined appearance might draw attention to these features. The emphasis is directed upward, which elongates the appearance of rounder faces.
A regular fading works well with rounder face shapes like circles and squares. Regular fades, with their slightly larger sides, are great for giving soft, round faces definition and angles.
Keeping some hair at the nape of the neck also draws attention away from the sides of the head, making a square face appear narrower.
Bald Fade Styles
There are many stylish ways to cut and style the hair on top while pairing it with a bald fade below. Some top bald fade styles include:
Buzz cut – Very short, cropped haircut with a bald fade. Gives a minimalist, quasi-military look.
Crew cut – Shorter hair on top (about 1/2 inch) paired with a bald fade on the sides/back. Classic masculine style.
Short quiff – Medium-short hair (2+ inches) brushed upward and back from the forehead in a short quiff or pompadour.
Faux hawk – Hair in a faux mohawk or faux hawk style, with a bald fade on the sides.
Comb over – Hair combed neatly over to one side, paired with a bald fade. Polished look.
Textured crop – Choppy, messy crop cut with a bald fade. Edgy and modern.
Curly fro – Tight curls on top over a bald fade. Great for Black men with natural curls.
Regular Fade Styles
Some examples of hairstyles for men paired with a regular taper fade include:
Short side part – Medium short hair pushed to the side in a part, faded down the sides. Classic and professional.
Pompadour fade – Volume brushed up and back from the forehead in a wavy pompadour, faded down the sides.
Textured crop – Messy medium-short hair texturized on top with a taper fade on the sides.
Slicked back undercut – Hair slicked back away from the face, slightly longer on top with an undercut faded down the sides. Trendy yet refined.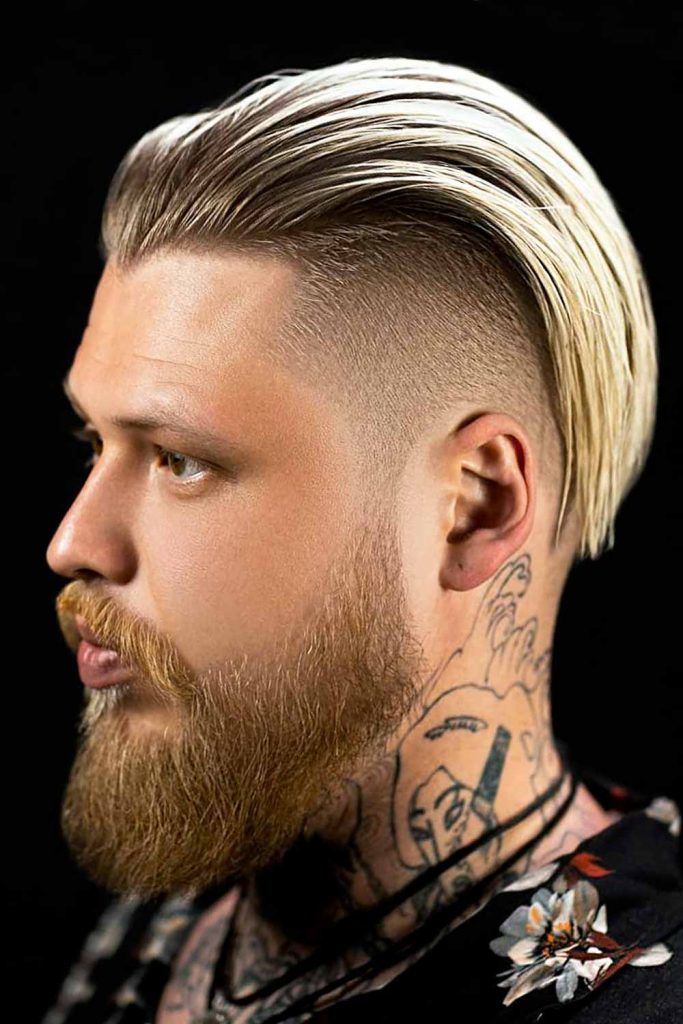 Curly top with tapered sides – Tight curly hair on top left longer, while the sides are tapered shorter. Great for curly hair.
Quiff with tapered sides – Spiky short quiff in front with the back/sides tapered down. Modern and stylish.
There are two main ways to trim and style the sides and back of a man's hair, and they are known as the bald fade and the standard taper fade. While both utilize some sort of tapering or fading, there is a wide range of contrast, adaptability, aesthetic, and care requirements between the two.
Ultimately, the greatest choice will be determined by factors such as individual taste, hair texture, facial shape, and desired haircut. With the appropriate styling on top and a skilled fading process on the sides and back, both can create fashionable looks.