Although curly Mullet can be difficult to manage and style, it is possible to create beautiful, attention-grabbing styles with the correct products and methods. The curly mullet is one of the most popular and adaptable styles for naturally curly mullets. This one-of-a-kind cut features short, layered hair on top and longer, free-flowing locks in the back.
In this post, we'll go over nine different approaches to styling and maintaining your curly mullet, from advice on how to trim and shape your hair to suggestions for products that will bring out your curls. There's a curly mullet style that'll work for you whether you choose trendy fashion or classic looks.
1. Find the Right Hair Stylist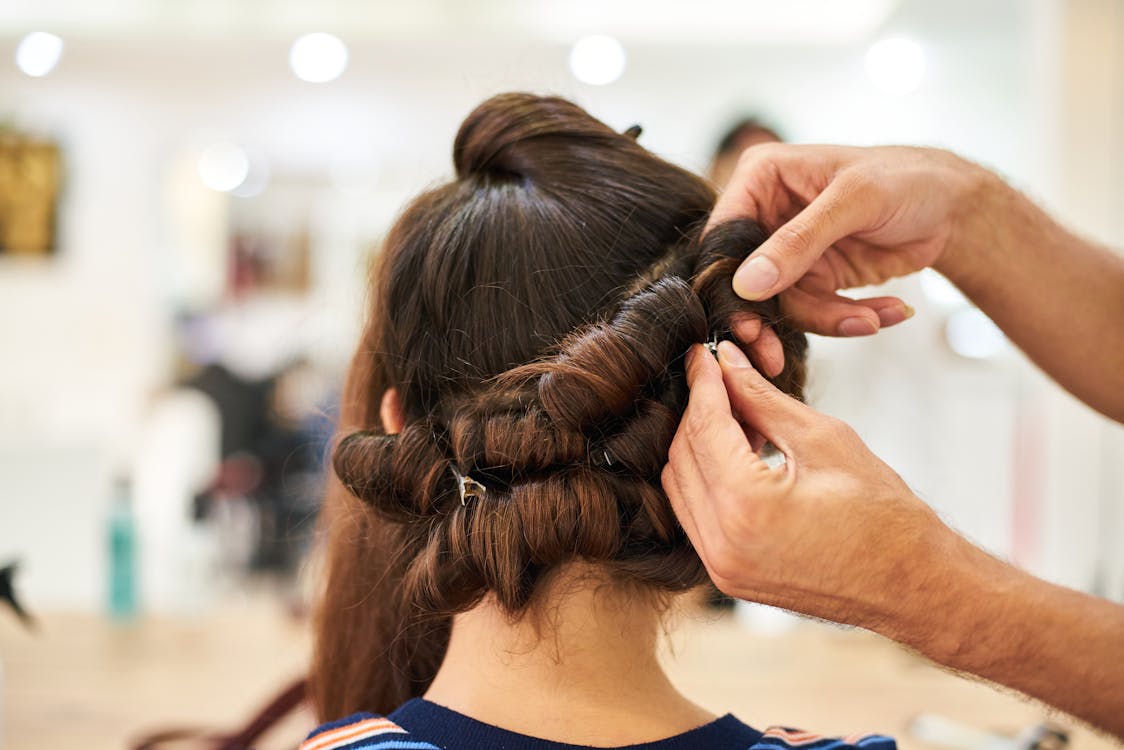 Finding a Hairdresser Who Knows Curly Mullet
Curly mullet has distinct qualities that necessitate specialized care and styling methods, therefore it's essential to choose a stylist who has experience with treating and styling curly hair. Curly hair, in contrast to straight hair, needs to be treated and cut in a way that emphasizes its natural texture and shapes to prevent dryness, frizz, and breakage.
A stylist who has experience with curly mullet may give you advice on how to trim and style your curls, which products will work best, and how to keep your curls healthy.
On the other hand, a stylist who isn't familiar with working with curly hair may employ methods or products that harm or flatten the curls, leaving the client dissatisfied and frustrated.
Tips for Researching and Selecting a Stylist
Some advice on finding a stylist that knows how to work with curly hair:
Find curly hair stylists. Several salons specialize in curly mullet. Browse their websites and social media accounts for curly hair mentions or images of clientele.
Consult other curly-haired folks. Ask someone with curly hair if you admire who their hairdresser is and if they would recommend them.
Online reviews. Yelp, Google, and Facebook offer stylist reviews. Look for feedback from curly-haired people about the stylist's experience and skill.
Book a meeting. Consult with a stylist about their curly mullet experience before arranging a full appointment. This can reveal their expertise, skills, communication style, and personality.
Check the stylist's credentials. Search for DevaCurl or Ouidad-certified stylists. Ask if they attend curly mullet conferences or workshops, which shows their dedication to learning new techniques and products.
2. Embrace Your Natural Texture
Value of Embracing Curly Hair's Natural Texture
Instead of striving to fit in with the conventional norm of straight hair, it's more beneficial to embrace your natural texture and play up its attractiveness. Instead of trying to make it conform to an ideal, curly hair's distinctive texture and shape should be accepted and celebrated.
Furthermore, damage, such as breakage and dryness, can be caused by consistently straightening or manipulating curly mullet, leading to dissatisfaction and disappointment.
Advice on How to Keep Your Curly Mullet Healthy
If you want to keep your curly hair healthy, follow these guidelines.
Apply curly hair-formulated sulfate-free shampoo and conditioner. Sulfates can dehydrate and frizz curly hair.
Avoid flat and curling irons. Use heat tools carefully and protect curly hair with a heat protectant.
Instead of a brush, detangle with a wide-tooth comb or your fingers. A wide-tooth comb or your fingers may detangle curly hair without damage, unlike brushes.
Don't overwash. Wash curly hair every few days to avoid dryness. Dry shampoo can freshen hair between washes.
Silk or satin pillowcases. Silk or satin pillows prevent hair damage while you sleep, but cotton ones induce frizz and breakage.
Curl-defining creams and gels can enhance your hair's natural texture. These products define curls and minimize frizz without hurting hair.
3. Use a Good Shampoo and Conditioner
Applying Proper Hair Products
Maintaining healthy hair requires the use of proper hair care products like high-quality shampoo and conditioner. While conditioner helps moisturize and nourish the hair, making it smoother and more manageable, the shampoo helps cleanse the scalp and eliminate grime, oil, and product buildup. When you use improper hair care products, you run the risk of damaging your hair and irritating your scalp.
Furthermore, different hair types have varied requirements, and problems can be exacerbated by using incorrect products. If your hair is naturally curly and prone to dryness, try a moisturizing shampoo and conditioner. If your hair is naturally fine and flat, try a volumizing shampoo and conditioner.
Advice on Choosing the Right Shampoo and Conditioner
When choosing a shampoo and conditioner, know your hair type. This can help you choose a customized formula.
Shampoos and conditioners with natural oils, proteins, and vitamins nurture and hydrate hair. Sulfates and alcohol dry out hair, so avoid them.
Find products for dandruff or color-treated hair. Shampoos and conditioners for these concerns exist.
Read shampoo and conditioner reviews before buying. This might help you assess its effectiveness and value.
Try numerous brands and formulas until you find the right shampoo and conditioner for your hair.
4. Define Your Curls
How to Choose Your Ideal Curl Pattern
Curls look best when defined on freshly washed and conditioned hair. Use a curl-defining product after washing and conditioning your hair to bring out your curl pattern. This will aid in making curls that are both defined and buoyant, full of volume and gloss. Finger coiling and scrunching are also effective methods for promoting curl production.
Selecting and Applying Curl-Defining Products
Search for hair-specific products. Selecting a product for your curl type is crucial.
Select a lightweight product for your curls. Seek for products with natural ingredients like coconut oil or shea butter to moisturize and nourish your curls without leaving them greasy.
Apply the product evenly to damp curls with your fingertips. Apply the product from the ends up to the roots. Too much product can make curls look oily or limp.
Hair dryers with diffusers softly dry curls. This will define and set curls. Avoid blow-drying or towel-drying your hair to avoid frizz and curl disruption.
Use a curl refresher spray throughout the day. This can revitalize your curls and add moisture and luster without weighing them down or producing buildup. Spray the product on your curls and gently scrunch them with your fingers to reactivate your curl pattern.
5. Blow-Dry with a Diffuser
How to Properly Blow-Dry Curly Mullet
Using a shampoo and conditioner designed for curly hair is the first step. Gently wring out the excess water from your hair with a towel. To prevent your hair from becoming frizzy, do not rub it with a towel.
Put some mousse or curl-enhancing crème through your hair. Spread the substance out with a wide-toothed comb.
You should connect the diffuser to the hair dryer. Dry on medium heat or low and don't use the cool shot.
Put a piece of hair into the diffuser and tilt your head to one side. Using the diffuser, carefully bring the hair up toward the scalp and hold it there for a few seconds.
Keep going until you've dried your entire head of hair using the diffuser at a variety of angles.
If your curls seem flat or lifeless after drying, try scrunching them gently.
Tips for Using a Diffuser Attachment
To protect your hair, use the diffuser in the lowest or medium heat setting.
Before you diffuse, accentuate your curls using a product made for curly hair.
If you want to dry your hair without messing up your curl pattern, use a diffuser.
The hair can be diffused from the roots to the ends by tilting the head to one side or upside down. More depth and elevation will result from this.
If you don't want your hair to frizz up while diffusing, try not to touch it too much.
Take your time when diffusing to ensure that your hair is thoroughly dry.
6. Experiment with Different Styles
The Versatility of the Curly Mullet Hairstyle
In recent years, the curly mullet has become a trendy hairstyle. This cut can be worn in a variety of ways to fit your mood or the event you're attending.
The mullet style hairstyle is characterized by short front and side bangs and longer back hair. For people who naturally have curly hair, this is the ideal cut because of the added texture and motion the curls provide.
Some ways to style a curly mullet include:
Curls that flow down the back are the simplest way to go.
Use a volumizing product on the crown of your head, then scrunch your curls for a textured, carefree look.
Put your hair in a bun or ponytail and tie it back loosely, but be sure to leave some strands out to frame your face.
Create more defined curls with a diffuser attachment on your blow dryer, and then set them with hairspray.
Put on a headband or a scarf to channel your inner hippie or vintage fashionista.
Tips for Trying Out Different Styles
Try out a variety of styling products to see what works best for you and your hair. You can alter your hair's texture and hold by using products like mousse, gel, and hairspray.
Experiment with various headbands, clips, and scarves to find one that complements your hairdo.
Don't be scared to try out new hairstyles by cutting your hair at various lengths to see what works best for you.
If you're looking for a new hairdo and want some ideas, peruse social media and fashion blogs.
Don't give up if your first attempt at a new look doesn't pan out. Finding the right hairstyle for you takes time and effort, so don't give up before you've given it your all.
7. Trim Regularly
Regular Haircuts are Essential for Maintaining Healthy Hair
In order to keep your hair in good condition, you should have regular trims. Regularly trimming the ends of the hair can stop split ends, breakage, and damage from working its way up the hair shaft.
Damaged hair is difficult to manage and can appear unattractive when split ends are present. Trimming your hair on a regular basis can also help it grow longer by removing split ends.
Advice on How Often to Perform Trims
The length, texture, and condition of your hair determine how often you should get a cut. To keep hair in good condition, the trim should be done every 6-8 weeks.
Look after your hair's ends. They need to be trimmed if they start to look ragged or split.
You may need to trim your hair more often if you have chemically treated hair or if you routinely use heat styling equipment.
You should talk to your stylist about how often you should get your hair cut.
Maintain your hair's health and lengthen the time between cuts by consistently moisturizing and nourishing it with hydrating products, like deep-conditioning treatments.
Take care when trimming at home, and make sure you have the necessary equipment and skills to avoid making things worse. If you want your hair to look its finest, consult a hairstylist.
8. Protect Your Hair While You Sleep
How Sleeping Can Affect Curly Mullet
Tossing and turning throughout the night can be rough on curly hair because it causes friction between the hair and the pillowcase. This is especially problematic for people with curly mullet, as the friction causes frizz, tangles, and breakage. Furthermore, the natural oils from your hair can be absorbed by cotton pillowcases as you sleep, leaving your hair dry and brittle in the morning.
How to Prevent Hair Damage While You Sleep
Choose a silk or satin pillowcase to lessen the amount of time your hair is rubbing against your pillow. These materials are kind to hair and effective at warding off frizz and knots.
If you want to keep your curls intact while you sleep, try covering them with a silk or satin hat or scarves. This may assist to minimize frizz and maintain the curl pattern.
If you want to sleep with your hair down, but it tends to get tangled, try sleeping with a loose, low ponytail or braid.
To prevent your hair from drying out overnight, apply a leave-in conditioner or hair oil before hitting the hay.
If you want to keep your hair from becoming dry and brittle, you should stop using cotton pillowcases and towels.
If you don't want knots and tangles to form in your hair as you sleep, detangle it before bed.
You can minimize the risk of knots by sleeping on your back or by piling your hair on top of your head.
9. Avoid Over-Washing
Overwashing Can Damage Curly Hair, So Be Careful!
Curly mullet is more prone to dryness, frizz, and breakage if washed more frequently than straight hair. Overwashing might aggravate the dryness that naturally occurs in curly hair compared to straight hair. Curly hair can be more challenging to manage because regular washing can mess up the curl pattern.
Dry Shampoo and Washing Routine Tips
Think about how often you want to wash your hair and how often you want to do other things. Some people only need to wash their clothes once a week, while others may need to do it twice.
Focus on your hair and scalp health. Wash your hair if you notice that your scalp is oily or irritated. If your hair is dry and brittle, you may want to reduce the number of times you wash it.
Make sure you're using a curly hair shampoo that doesn't include sulfates. Sulfates are known to be drying and damaging to curly hair since they remove the hair's natural oils.
If you want your hair to be healthy and shiny, use a leave-in conditioner or hair oil after you wash it.
Dry shampoo can be used in between washes to remove excess oil and revitalize hair. Use your fingers to work dry shampoo into the roots and through the hair.
Carefully detangle and wash curly hair, as rough treatment can cause breakage and ruin the curl pattern.
When washing curly mullets, cold water is preferable because hot water can further dry out the hair. Instead of cold water, try lukewarm.
Don't be hesitant to try out various washing routines and products to determine what is best for your hair.