With time, talented artists have set up independent tattoo shop and attracted loyal audiences in far reached areas of Philadelphia. Here in this article, we have shortlisted some 8 tattoo shops where you can expect an excellent tattooing experience that is great and at the same time affordable.
Also See: Find Best Tattoo Shop Near Me | Search By Zip Code
1. Philly Ink Tattoo
With more than 24 years of experience in tattooing, the business owner Danny E. is running the Philly Ink Tattoo since 2003. Before Danny E. bought this place, Eddie owned and operated a Philadelphia Eddies tattoo shop. First established in 1979, it is the oldest continuously running tattoo shop in Philadelphia.
The shop is now run by father and son duo Danny Emery SR and Danny Emery JR. And they are the only artist providing tattooing services in Philly Ink Tattoo, although they are actively looking for a licensed artist to expand their service.
You can see the variety of tattoos done by both Danny E. SR and Danny E. JR on their website under each of their names separately so that you can easily choose your favorite tattoo artist. Apart from their website, they showcase the best works on their official Facebook page, where you will find them announcing various deals like Black Friday Deal.
Due to the ongoing pandemic, they are currently operating on an appointment basis only, although same-day appointments are available.
Website: https://phillyinktattoo.net
Address: 3216 Kensington Ave, Philadelphia, PA 19134
Phone: (215) 426-9977
Working Hours: Mon – Sat (12-9 pm), Sun (Closed)
Reviews
Highly recommend this tattoo shop in Philadelphia mostly because its not just a place its a home where they treat you with respect and actually care about you. They are honest and would never steer you in the wrong direction
Billy did a awesome job on my neck! Danny and the rest of the crew are personable,welcoming and will keep you laughing! Great atmosphere!
Got my first professional tattoo today and I will definitely be going back to Philly Ink Tattoo for more!!! Thanks Dan! 😉
2. Big City Tattoo Studio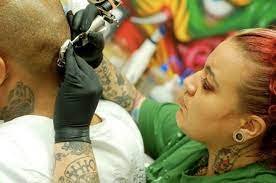 A tattoo and piercing shop with its amazing artists and professional services is winning the hearts of different customers. Big City Tattoo Studio provides a reasonably and competitively priced tattooing service where quality and fairness meet wilt creativity.
Not only are the artists creative, experienced, and safe, but also very clean and hygienic. You can get it done here if you want something small like a name or a big epic back tattoo. They can help you with a cover-up or a complete redo of any existing tattoo also.
You can see their work on their official Facebook page. You can book an appointment by a call, message, or email. In the case of a message, they typically reply within an hour.
Website: Not Available
Address: 2635 W Girard Ave, Philadelphia, PA 19130
Phone: (215) 235-6602
Working Hours: Mon – Thu (12-8 pm), Fri – Sat (12 – 12 am), Sun (Closed)
Reviews
Great place! Todd responded to my messages within minutes. Got matching tattoos with my roommates and he helped us design our individual tats on super short notice! Great prices too. Have gotten 3 tattoos here and would definitely recommend!
I have been coming here to get tattoos and piercings for 14 yrs. My family comes as well. We have received nothing but top tier professionalism. And we all love every one of our tattoos and piercings! Highly recommend!!!
I had my nose pierced. Was able to walk in. Waited a little until Malik was fee. Was quick and positive experience. They made sure I approved of the placement and everything before hand. Instructed me on keeping it clean for quick healing. Love my new piercing!
3. Frequency Tattoo Company
The Frequency Tattoo Company is known for its full-service custom tattoo. They have two experienced full-time artists just for this full-service custom tattoo. They will design a unique tattoo according to your needs, which means you don't necessarily have to choose from hundreds of already available designs.
These custom tattoos are of the highest quality provided at a fair price. The environment created with their customer service and good clinical environment maintenance in the studio can make anyone feel comfortable.
Apart from their in-house artist, they also host guest artists from time to time. You can know more about their in-house artists by visiting their official website. You can get your tattoo done at Frequency Tattoo Company by just Walking in or by booking an appointment beforehand through their website.
Website: https://frequencytattoo.com
Address: 4038 Ridge Ave, Philadelphia, PA 19129
Phone: Not Available
Working Hours: Mon – Sat (11 am – 7 pm), Sun (Closed)
Reviews
John, the shop owner, tattooed me. I had a great experience at Frequency and will definitely go back. This tattoo means the world to me as it is a handwritten note from a lost loved one. John paid a ton of attention to the details. I so appreciate it.
Followed all safety precautions for Co-Vid, as well as standard tattoo shop precautions. Staff was extremely friendly and it was an inviting atmosphere. Highly recommend
Amazing shop, great artists who truly care about their customers' satisfaction from start to finish. Justin does incredible detailed work. John was a pleasure to talk with and I left feeling like I could stop in any time. Your tattoo search ends here!
4. Philadelphia Eddie's Tattoo
With more than 7 artists working in-house, Philadelphia Eddie's Tattoo is the oldest tattooing shop in Philly while bagging the number one spot since its establishment in 1952.
Three artists who work there are East-Coast Charlie, Zach Beltran, and Josh Butcher. The shop is open for walk-ins any hour of the working hour. According to some online reviewers who used their tattooing service portrays the shop is excellent, clean with very friendly artists.
Amid the pandemic, they have taken all the necessary precautions to avoid their customers getting infected. To prevent the chance of spreading the covid-19 viruses, they have actively asked their customer to call and reschedule if they feel sick. They have maintained Health Industry Standard cleanliness by cleaning the shop throughout the day.
Website: http://www.philadelphiaeddiestattoos.com
Address: 621 S 4th St, Philadelphia, PA 19147
Phone: (215) 922-7384
Working Hours: Mon – Sun (12-10 pm)
Reviews
Went in on a Sunday night Brittany at the front door greeted me and my dad! She was awesome! Very clean place! Frank did our tattoo which came out awesome!!!! He was a professional and so down to earth it was such a comfortable and nice experience!!! Will def be going back!!!
Went in for a tattoo on Monday and had an amazing experience, Charlie was the artist that worked with me super talented and very professional environment. I'll definitely be going back.
I never get a tattoo from here that I am not pleased with they do fabulous work and been going to them for over 20 yrs now.. I have 16 tattoos so far and booking for another tattoo in 2 weeks then want 2 more a semi colon and something for bipolar depression
5. No Ka Oi Tiki Tattoo

No Ka Oi Tiki Tattoo established in April of 2002 and is a specialty tattoo and piercing studio offering electric tattooing and body piercing by the most talented, experienced, and informed professionals in the business.
If you are looking for some award-wining and top-rated tattooing artist in Philadelphia, then No Ka Oi Tiki tattoo shop is for you. This place is considered one of the most popular tattoo parlors in the area.
Their specialty lies in both tattooing and graphic designing. They are primarily an all-girl studio that is always on the path of bringing the best quality work possible. They also specialize in body piercing. For appointments, you can directly call them or visit their website for an appointment.
Website: http://www.nokaoitikitattoo.com
Address: 610 S 4th St, Philadelphia, PA 19147
Phone: (215) 925-1766
Services: Tattooing & Piercing
Working Hours: Sun – Thu (12-10 pm), Fri – Sat (12 pm – 12 am)
Reviews
Love going here, very nice place. Went in to make an appointment for piercing and they were able to fit me in right then. Very knowledgeable staff and accommodating! Love the vibe as well ✌🏾The only place in Philly I'd go for tattoo or piercing 👍🏾
I got my earlobe pierced here and it was just such a great experience!! LJ was so personable and set me at ease with his passion for what he does, and his humor. The procedure was quick and felt very safe. They have beautiful jewelry.
I would highly recommend this tattoo shop to anyone looking for a new piercing in Philadelphia. Luis talked me through everything and was super knowledgeable. The person working the front of the shop was also super friendly. I'll definitely be returning for future piercings
6. Seven Swords Tattoo Company

Seven Swords Tattoo Company is one of the few shop in Philadelphia that have both the best in-house tattooing artists and a sustained flow of different international guest tattooing artists in their studio.
They specialize in all styles of tattooing, starting that includes Traditional, portrait, floral, and many more. They provide a smooth process of tattooing in an immaculate, friendly, and professional way. You can schedule your appointment with any of the artists listed on their website.
Their charge for custom and different kinds of tattooing is very fair and affordable. They also offer incredible cover-ups. They are very conscious about the covid situation and takes every precaution like strict mask policy to avoid covid infection.
Website: https://www.sevenswordstattoocompany.com
Address: 2580 Frankford Ave, Philadelphia, PA 19125
Phone: (267) 319-1910
Working Hour: Sun – Thu (12-8 pm), Fri – Sat (12- 9 pm)
Reviews
Got a rose tattoo around my collarbone by Keith. Did NOT hurt at all, I was expecting the worse since it's a sensitive area. Other tattoos I've gotten have hurried wayyyy more. It looks amazing, the store is beautiful, and the whole staff there was very friendly and accommodating. Will definitely come back for future tattoos.
Keith did a piece for me and was very patient and knowledgeable as we worked out any changes to my tattoo. He even listened to my concerns and requests as he was tattooing, and made me feel really validated by listening to me while also maintaining his own professional work. Super clean and friendly shop, and very relaxed atmosphere.
I had a few tattoos done by Keith Verrico who was one of the most professional and clean artists I've encountered. His art speaks for itself – clean and precise lines and beautiful colors. He will be honest in what will look right and what placement would work best. I recommend Keith to everyone I know looking to get tattooed!
7. Art Machine Productions
This studio was first started by its business owner Tim Pangburn in the year 2010. After one year, they changed their original location to have a larger studio than the original one.
With lots of open spaces and high ceilings, the studio gives a relaxing feeling that is very Zen. Apart from the owner cum artist Tim Pangburn you can find six more artists working in the studio.
If you want your artist to custom design the tattoo that you dreamed of so many times, then artists at Art Machine Productions will make your dream tattoo a reality. The custom tattoo will be precisely the same as you conceived in your mind.
The kinds of tattoos they specialize in, apart from custom tattoos, are portraits, neotraditional, new school, traditional, and other different styles.
Website: https://www.artmachineproductions.com
Address: 1345 Frankford Ave, Philadelphia, PA 19125
Phone: (267) 239-2724
Working Hours: Sun – Mon (12-8 pm)
Reviews
Mary-Leigh tattooed my eyebrows. This was my first and still only tattoo. I did not feel a thing!! She is very caring and checks on you throughout. Her attention to detail is very appreciated. She also checks on you after to make sure you are healing well. She is a true professional. I would recommend her a million times!
Super quick and Art Machine Productions! I was impressed with how well they were caring for me, even handing me a protein bar and candy when I was feeling faint. I felt really at Art Machine Productions. I would totally recommend this place to anyone looking for a good place.
Bobby Treftz is an incredible artist, also extremely professional and clean. I look forward to traveling to Philly a few times a year and I always make it a point to stop in. Thanks for taking the time to draw something out. I will always come back for more work. Till next time.
8. Black Vulture Gallery
This Philadelphia based tattoo shop has a crew of local artists with decades of experience, making them so versatile that they can handle any tattoo you throw at them. Every artist has an individual portfolio that you can check on their official website.
You can expect an incredible experience starting from the initial consultation to the multiple sessions( if needed) and ending at the subsequent healing process.
Apart from having a great atmosphere at the shop, you will get a very swift and affordable tattooing experience from them when your turn comes.
For booking an appointment, you need to visit their official website, and also, you can make a call for any post or pre tattooing query that arises.
Website: https://www.blackvulturegallery.com
Address: 208 E Girard Ave, Philadelphia, PA 19125
Phone: (215) 423-3666
Working Hours: Mon – Sat (12-9 pm), Sun (Closed)
Reviews
Just got my second tattoo from Hoode and will go back for my next one. Other than just loving the tattoo he gave me, the shop is clean and the artists are approachable.
Drove all the way from Virginia to get some work done from Justin Harris. He was phenomenal and fast. My tattoos are lights out. I could not be more pumped.
Hoode was amazing! Made things very comfortable and welcoming. If you're interested in black work. He's the best. Looking forward to the next 4 hour commute to get tattooed!