Claw clips are an easy way to update your look with no effort. Claw clips are an easy way to seem put together and presentable in a flash, whether you're going to a formal event, the workplace, or just out and about.
This post will discuss ten beautiful claw clip hairstyles that can be worn on a variety of occasions while still making you seem polished and put together.
1. Classic Half-Up Twist
Timeless in its appeal, this hairdo takes the best of both the half-updo and the claw clip. The upper part of your hair may be gathered, twisted, and clipped behind your head with ease. This cut lends an air of refined elegance to any ensemble, making it suitable for business or pleasure.
2. Low Messy Bun
Try a low messy bun secured with a claw clip for a casually elegant appearance. Put your hair in a loose bun at the base of your neck and fasten it with a claw clip. For a gentle and ethereal effect, let a few strands that frame your face fall freely. This haircut may be worn throughout the day or at night.
Also Read: Say Goodbye to Heat Damage! Get Gorgeous Curls with These Revolutionary Heatless Hair Curlers
3. Textured Side Swept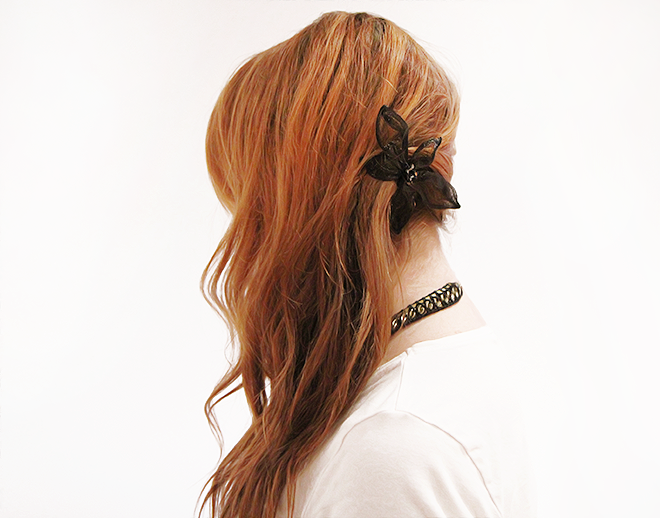 Sweep your hair to one side and secure it with a claw clip for a stunning and attractive appearance. This look is flattering on many hair lengths and textures, and it's easy to do. Weddings, parties, and romantic evenings all benefit greatly from its presence.
4. Polished Ponytail
Claw clips may take your ordinary ponytail to the next level. Put your hair in a high, sleek ponytail and fasten it with a claw clip if you need a quick boost. This hairstyle is professional and elegant, making it suitable for both daytime and evening use.
5. Boho Chic Half-Up
The boho chic half-up hairstyle, achieved by pinning the hair to the crown with a claw clip, is a great option for those seeking a bohemian aesthetic. Take a tiny amount of hair from each side, twist it, and clip it behind your head. For a relaxed and easygoing look, let a few strands loose. This hairdo is perfect for a day at the park, a picnic, or a concert.
6. Romantic Updo
A claw clip updo is the ideal choice for a romantic, feminine hairdo. Create a loose bun or chignon at the nape of your neck and fasten it with a claw clip. This chic hairdo is perfect for prom, weddings, or any other formal occasion.
7. Braided Beauty
Use a claw clip to add flair to your braid. You may use a claw clip to keep your braid or French braid in place at the back of your neck. You may wear this design to the workplace on a casual Friday or to a summer party.
Also Checkout: 10 Celebrities Who Rocked Edgy Short Pixie Cuts
8. Effortless Side Sweep
You can get a chic, put-together appearance in seconds by sweeping your hair to one side and securing it with a claw clip. You may wear this look with either long or short hair, and you'll feel and look immediately more glamorous. It may take you from a casual meal with friends to a formal affair.
9. Retro Glam
Claw clips are a great way to release your inner '50s diva. Use a curling iron to make your hair curly or wavy and then pull it to one side. Claw clip it so that the curls may fall gracefully. This beautiful hairdo is ideal for formal events like weddings and themed parties.
10. The Effortless Bun
Put your hair in a bun and secure it with a claw clip for a chic, low-maintenance style. Roll your hair behind your head into a low bun, then clip it into place with a claw hair clip. This cut is great for errand running and daily socializing.