1. Short Royal Blue Nails
A stunning look can be achieved with royal blue nails that are short and fashionable as well as with little care. If you choose your colors and your style carefully, you may make this appear to be up-to-date, amusing, and adorable.
2. Long Royal Blue Nails
Long nails painted a rich royal blue are an excellent alternative for females who want to try out different manicures that include cute designs and art on their fingernails.
3. Matte Royal Blue Nails
Royal blue matte nails are a sophisticated design that invites tactile exploration. Matte nail polish looks best when it is allowed to speak for itself, but you can always jazz it up with some glittery accents or nail art.
4. Royal Blue Ombre Nails
Nail art's versatility allows for many royal blue designs. The exquisite ombre manicure elegantly blends two or more colors. To draw emphasis to your nails, choose bold, contrasting hues or soften royal blue with white, grey, or tan.
5. Royal Blue Acrylic Nails
Acrylic is your best option if you want nails that are durable and will last for a long time. Acrylics, which are artificial nails that are applied over natural nails, are available in a broad variety of lengths and forms. Acrylic nails can be applied over natural nails.
6. Royal Blue Oval Nails
The oval shape is beneficial for nails of all different lengths. The traditional form has a rounded tip and curved sides, which distinguish it from other shapes.
7. Royal Blue Almond Nails
Royal blue almond nails help you grow long nails without breaking them. Since almond nails have rounded edges, they're more practical than stiletto or coffin nails. This design's softness and tenderness make cloud, heart, star, and flower nail art perfect.
8. Dark Royal Blue Nails
Nails painted a deep royal blue are classic and elegant and can dress up even the most casual attire. In addition to being a beautiful contrast to fair skin, the deeper blue tones also serve to camouflage flaws quite effectively.
9. Royal Blue Outline Nails
One of the most popular manicure patterns is the royal blue outline, which is perfect for ladies who are both unique and interesting because it is both understated and edgy at the same time.
10. Royal Blue and Gold Nails
An elegant and classic effect is achieved using nail polish in royal blue and gold. Lighter gold tones instantly brighten darker royal blue tones, while deeper gold tones complement more brilliant blues.
1. Matte Light Blue Nails with Ombre Leaf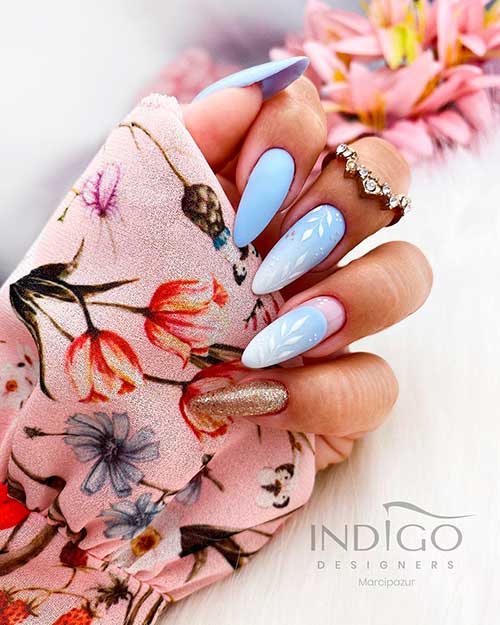 This gold-and-blue manicure is self-indulgent. Duck-egg is a wonderful neutral for any season. These intricate, three-dimensional designs make standout nails. Choose a length and form to make this amazing design work for you. If you like blue ombre nails, try this.
2. Sparkly, light blue nail polish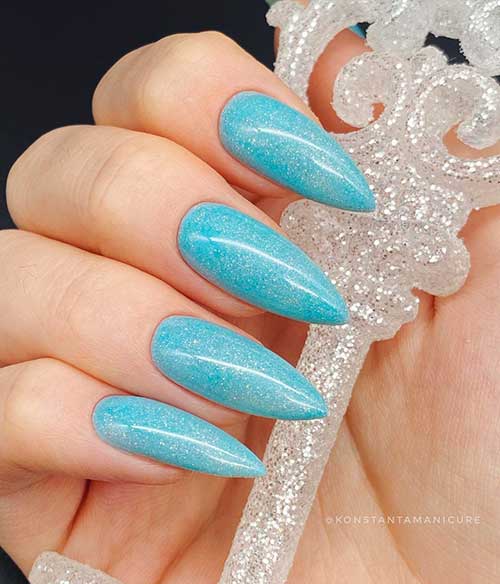 Stilettos describe these blue fingernails. The fingernails are brilliant blue and white. Glittery stiletto nails draw attention. This design is easy to reproduce, and the shimmering light blue color looks wonderful on nails of any length or shape. This nail art work for any occasion.
3. Gold-Tipped Light Blue Short Square Nails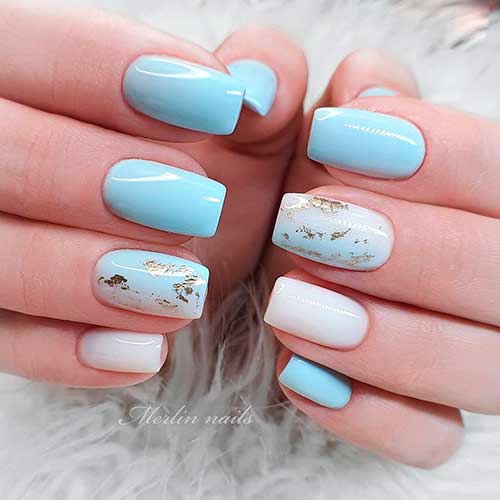 This nail trend will draw attention. Light blue and gold are 2022 hues, and this design is feminine and beautiful. Also perfect for fair skin.
4. Pink, Butterfly, and Light Blue Nails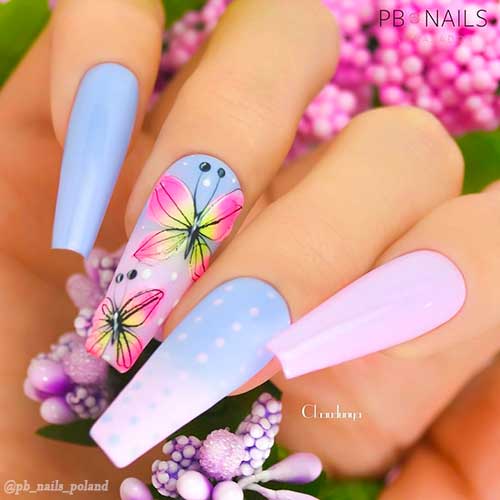 One of the most stunning manicure designs that you may try is one that consists of light blue nail polish and nail art stickers in the shape of butterflies.
5. Butterfly and Bling Nails on Matte Light Blue Nails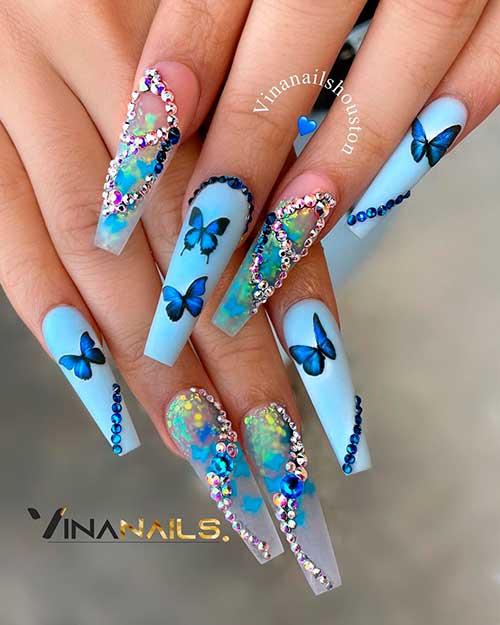 Luxurious nails let you express yourself. The diamonds and matte blue base exude royalty. Spread silver nail accessories to the tips.
6. Artistic Light Blue Nail Gloss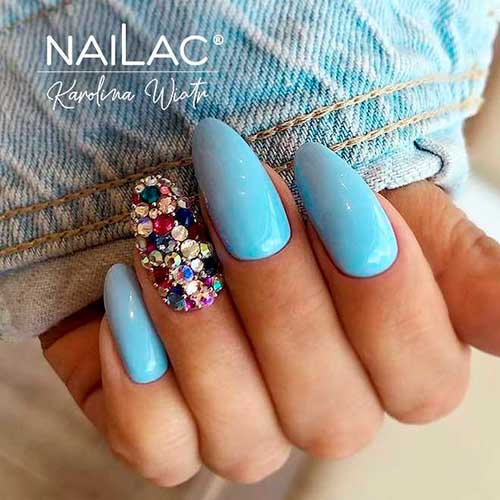 This manicure color looks fantastic, especially when worn during the warm days of summer, and the glitter nail used as an accent brings the design to a whole new level.
7. Rainbows and Floral Nail Art on Light Blue Nails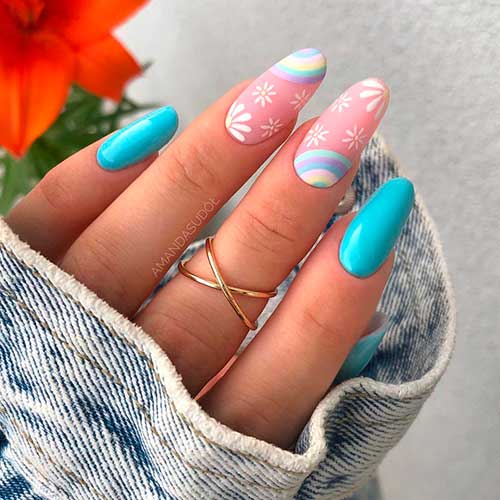 This stunning nail art is excellent for summer. These mixed rainbow and flower nail art embellishments are lovely and full of spring/summer feelings.
8. Dark Blue Flowers on Light Blue Nails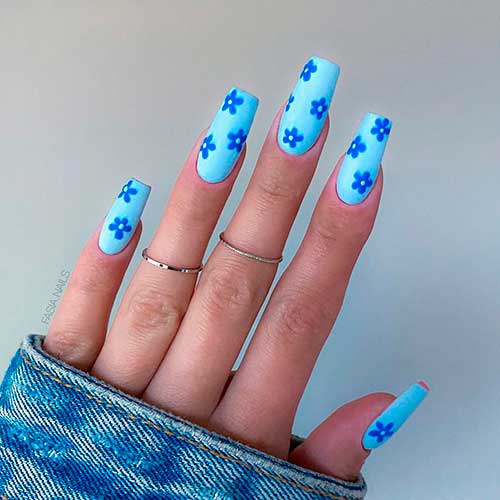 These light blue manicures with dark flowers are perfect for flowery nail art fans. Coffin-shaped nails are very popular. Stickers or nail stamping can be used to recreate these lovely nails.
9. Nail Art Design in Light Blue, White, and Grey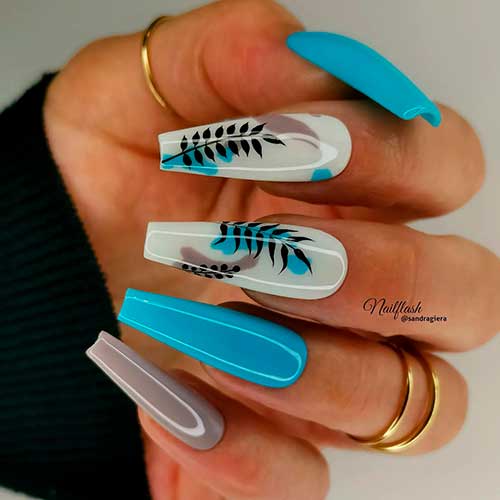 The light blue, white, and grey color scheme is one of my favorites. Nail art inspired by leaves is an easy way to amp up the design's aesthetic appeal.
10. Decorative Light Blue Nails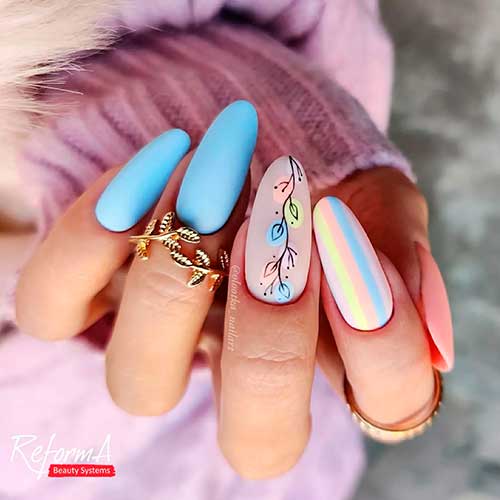 As you can see in the adorable design below, baby blue manicure ideas combined with other pastel nail colors are wonderful. You will be pleased with the results if you try pastel nail art.
1. Matte Baby Blue Nails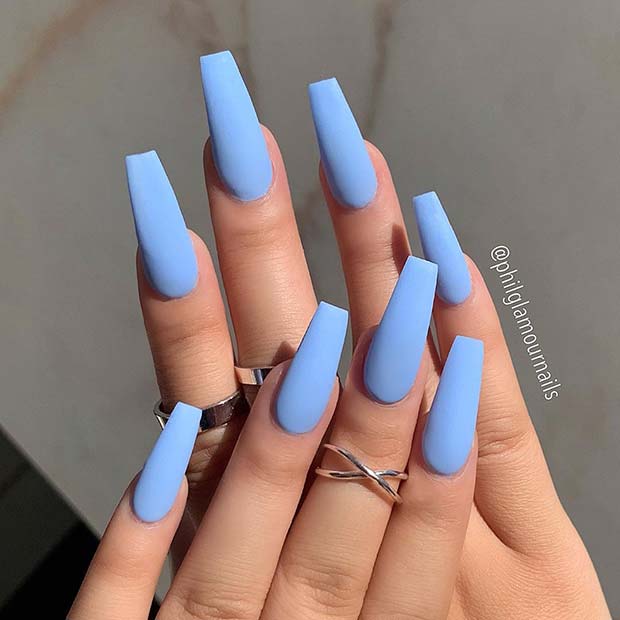 Let's start with these chic matte blue fingernails. The nails are long and coffin-shaped; the color is a gentle baby blue. This is a cheerful and simple manicure concept that works for everybody.
2. Baby Blue and Nude Ombre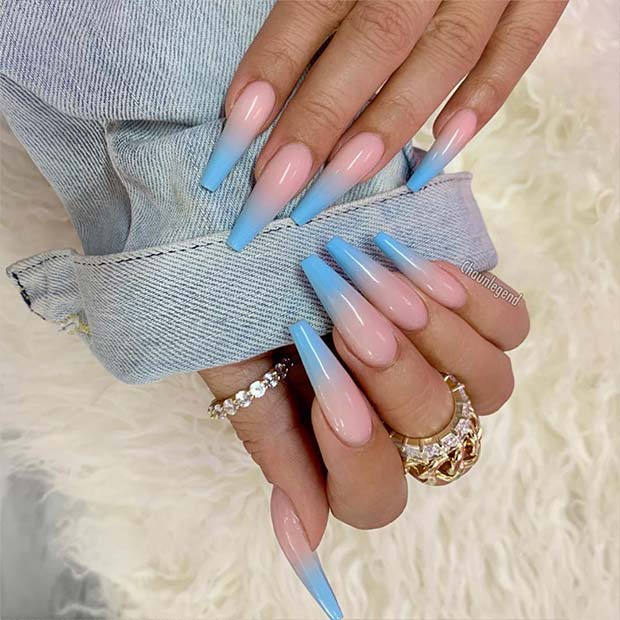 Next, we have a baby-blue ombre manicure that you're going to like. These coffin-shaped nails are nude at the base and gradually turn a pastel blue at the tips.
3. Floral-Accented Baby Blue Nails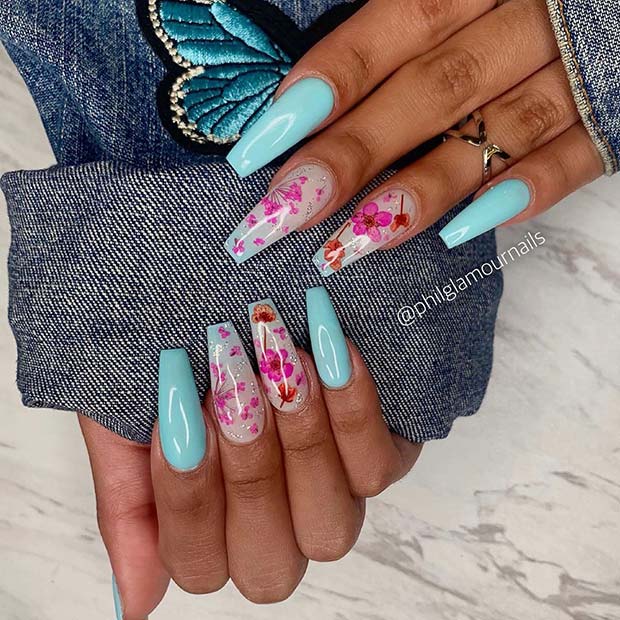 Because it has flower shapes, the pink and red floral pattern goes perfectly with the blue. This is a lovely design that is perfect for the summer and can be worn by everyone.
4. Sparkly Baby Blue Nail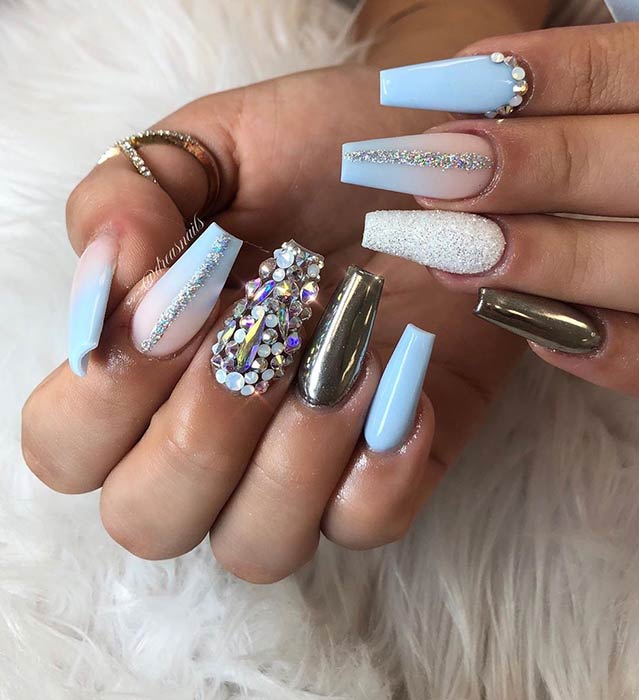 Nails painted a bright baby blue with rhinestones, glitter, and chrome accents make a statement. It's a bold style, ideal for fashion-forward women who want to make a statement with their manicures.
5. Chic Baby Blue Coffin Nails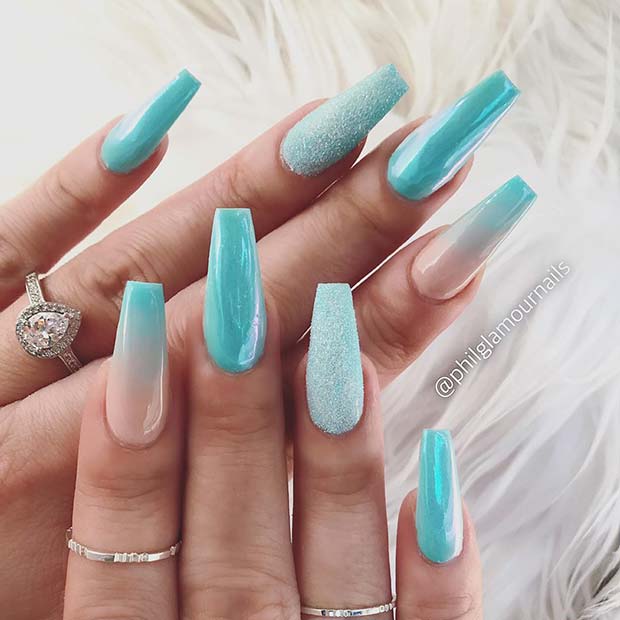 The next manicure idea is quite fashionable and trendy. There are some nails that are a plain baby blue, one nail has art that looks like ombre, and the other nail is dazzling.
6. Coffin Baby Blue Nails
You can't go wrong with the edgy sophistication of coffin nails. This on-trend form is brought to life by a combination of a pale blue hue and playful details like glitter.
7. White-Tipped Baby Blue Nails
Blue replaces pink or neutral in this playful French manicure. An ombre effect instead of a French manicure modernizes the style. The softer ombre blends these hues into a beautiful motif.
8. Rhinestone-Covered Baby Blue Nails
These nails have tons of charms, diamonds, and pearls. A manicure like this is for someone who craves attention. You'll get it all with these nails.
9. Butterfly-Adorned Baby Blue Nails
Both girly girls and edgers love butterflies. Like these lengthy coffin nails, they can soften aggressive designs and nail forms. The glitter adds splendor and the bright blue backdrop softens. Blue butterflies on the nails offer playfulness.
10. Swirled Baby Blue Nails
The nail trend of swirls appears to be continuing. This manicure is basic enough for novices. These swirls pop with solid blue nails. Blue and pinkish nude make a sophisticated, playful manicure.
1. Blue Acrylic Nails Coffin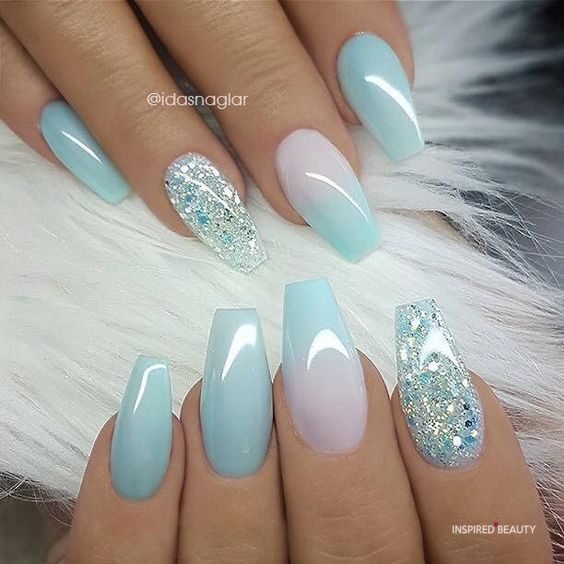 The light blue nails of this ombre coffin have a charming, soft appearance as well as a wonderful glitter design. These are the kind of coffin nails that everyone enjoys.
2. Dark Blue Acrylic Nails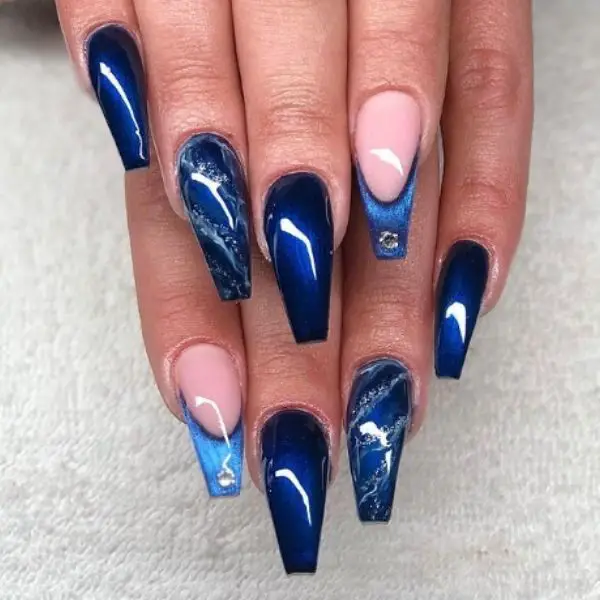 These dark blue nails with a mirrorlike sheen are guaranteed to get compliments. The water of a nude and blue hue, with silver at the tips, makes for a visually arresting mix.
3. Short Blue Almond Acrylic Nails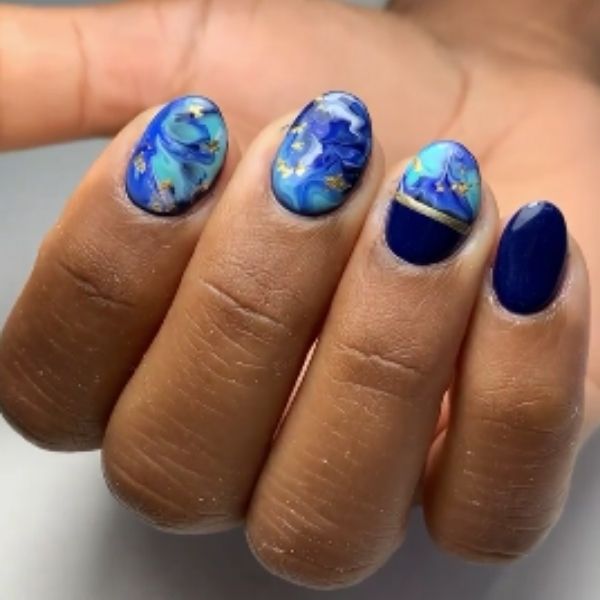 Beautiful short nail design! Dark blue has long been fashionable. These nails with marble designs are enticing. The gold line between the marble and blue matte complements the nails.
4. Matte and Glossy Nails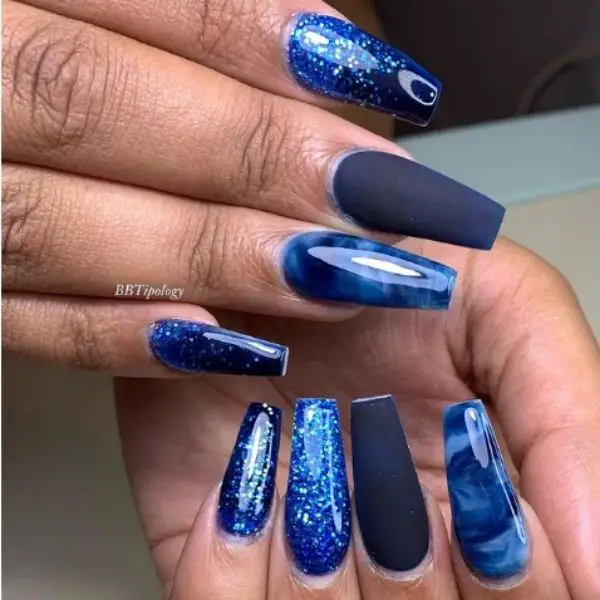 Marble, matte, or glitter nails? Why choose one when you can put them all elegantly on your nails? Matte-glossy contrast is stunning.
5. Dark Blue with Neon Strips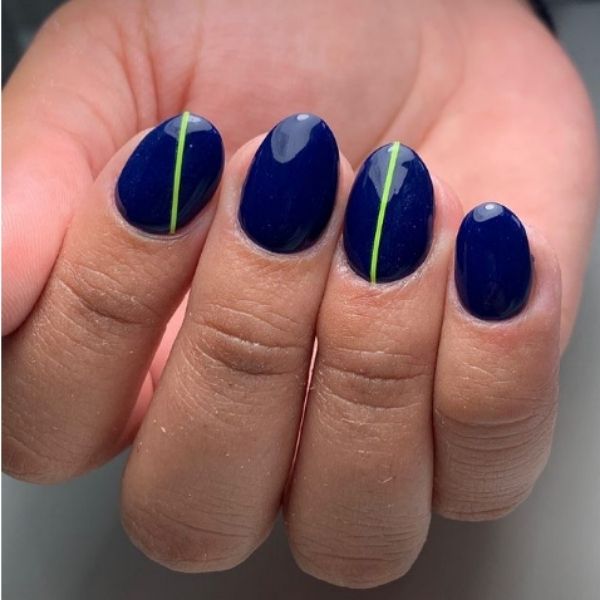 Two dark blue accent nails are adorned with neon green line art to add visual appeal. The glossy coating really brings out the blue in all of the nails.
6. Royal Blue Set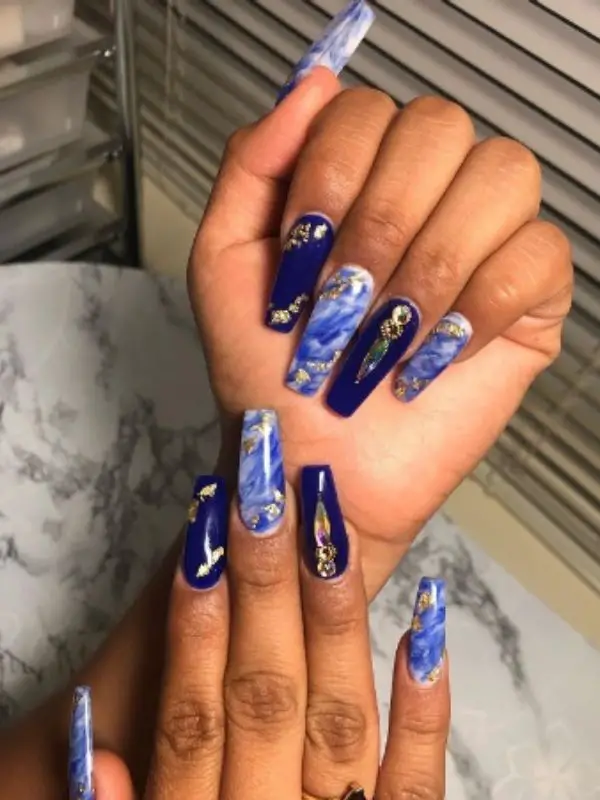 A granular design made of gold flakes and stones stands out against a background that is royal blue in color. The usage of marble nails in conjunction with gold flake accents makes for a very eye-catching manicure design.
7. Butterfly Daydreams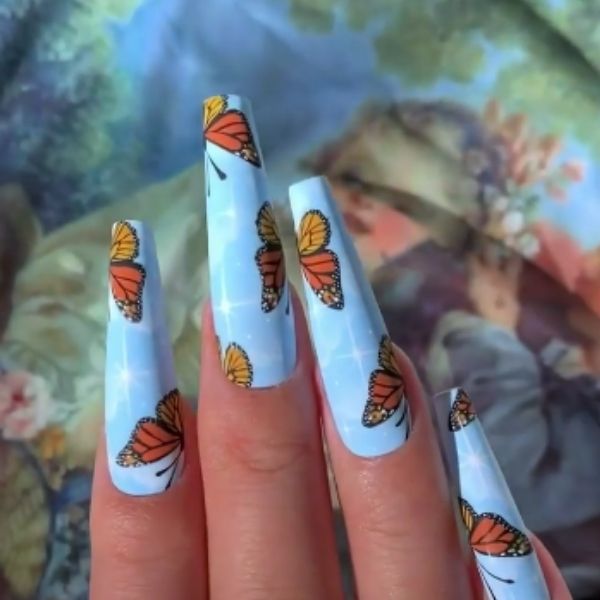 Are you a butterfly fanatic? If you're looking for some cute spring nail art, you can totally steal this one. Against the blue background, the butterflies look so realistic that they fool the eye.
8. Pastel Blue Acrylic Nails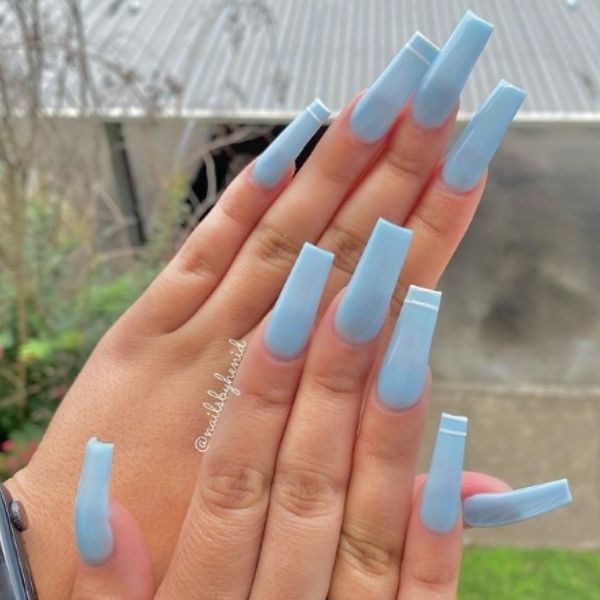 These nails are simple and edgy. The pastel blue and white horizontal stripe make these nails lovely. You can add all the lines to your nails or switch fingers!
9. Blue Stripes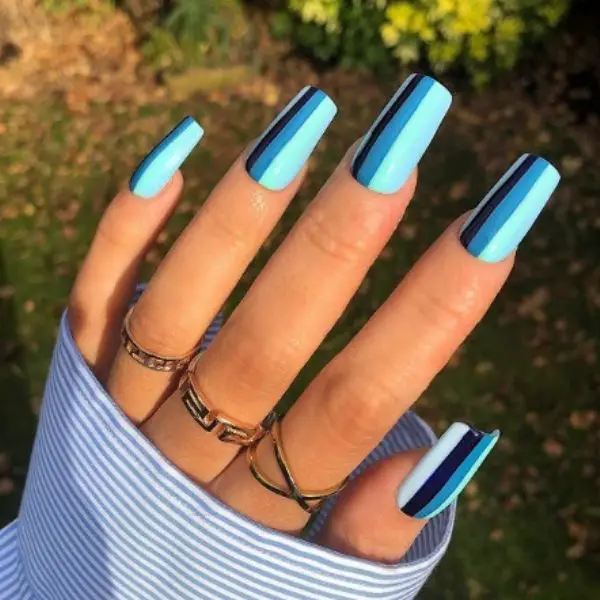 Want to brighten your nails? For a colorful manicure, paint these blue stripes. Dark, blue, and light blue makes a wonderful design.
10. Lace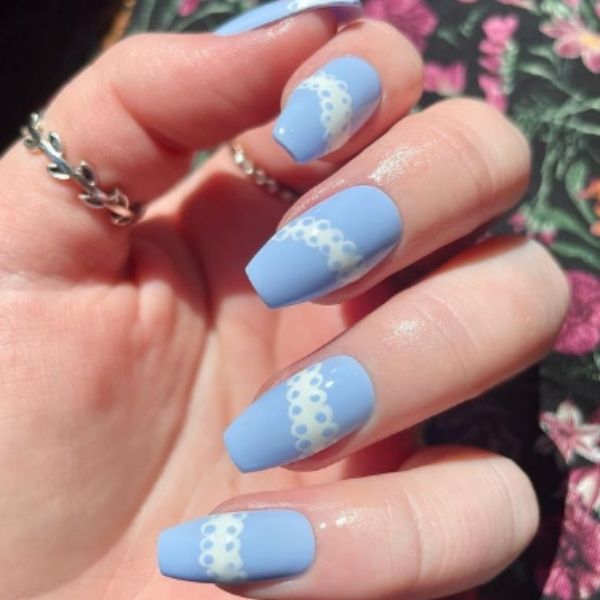 The lovely lace looks amazing with the bright blue nails. The nails are both lovely and uncomplicated.
1. Icy Blue Ombre Nails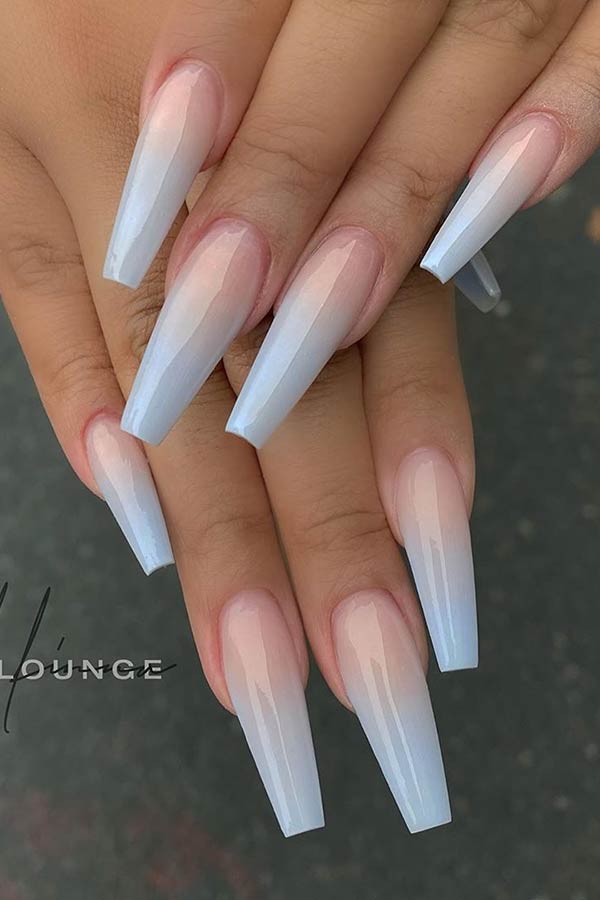 Our first blue ombre idea is stylish. This style starts with nude nails that turn icy blue. This blue is perfect for any season and event.
2. Chic Nail Art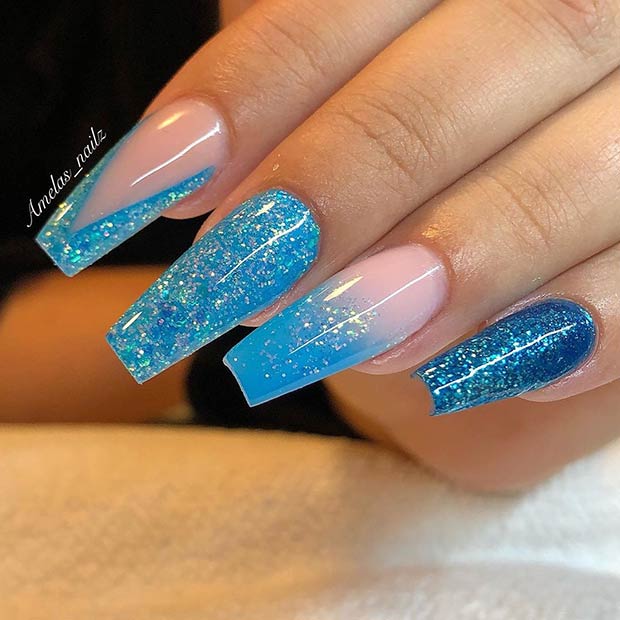 We have a lovely nail design. One nail is nude with a glittery V tip, two are glitter blue, and one is ombre. As seen, the ombre looks great with the other designs.
3. White and Blue Ombre Nails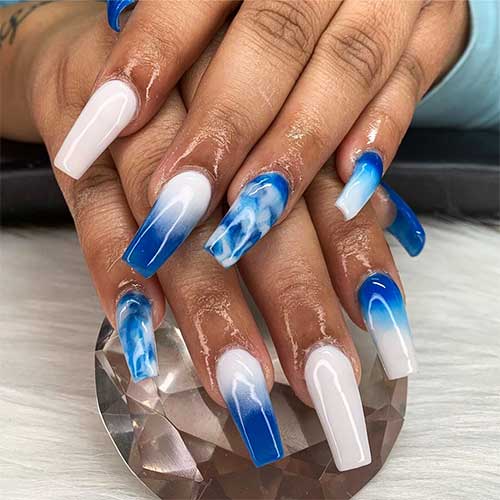 The transition between navy and white is quite well-balanced and natural. Envision a bottomless ocean as if seen through this set.
4. Ombre Matte Blue Nails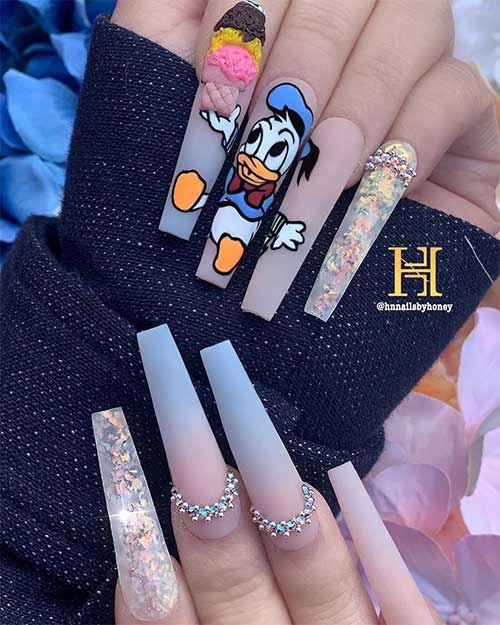 Despite the care, matte nails are beautiful and worth trying. These blue matte ombre nail designs are gorgeous.
5. Blue Ombre Easter Egg Nails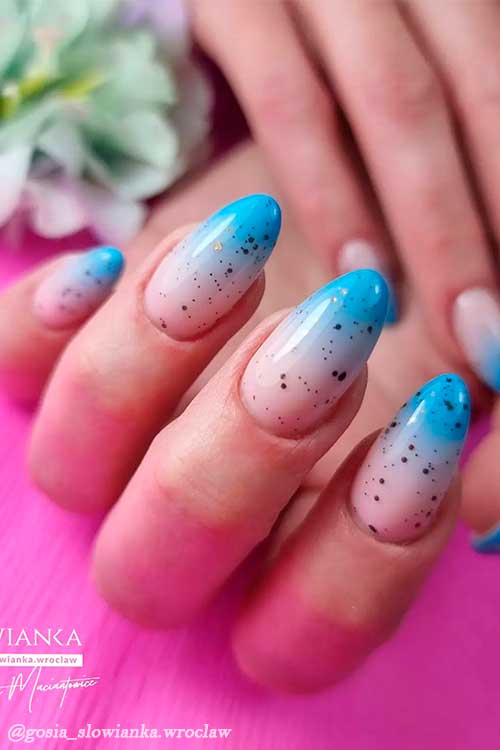 These cute nails 2022 are adored by fashionistas and celebrities alike and are now being worn by both groups. Have fun while exercising your imagination!
6. 3D Flowers on Matte Blue Ombre Nails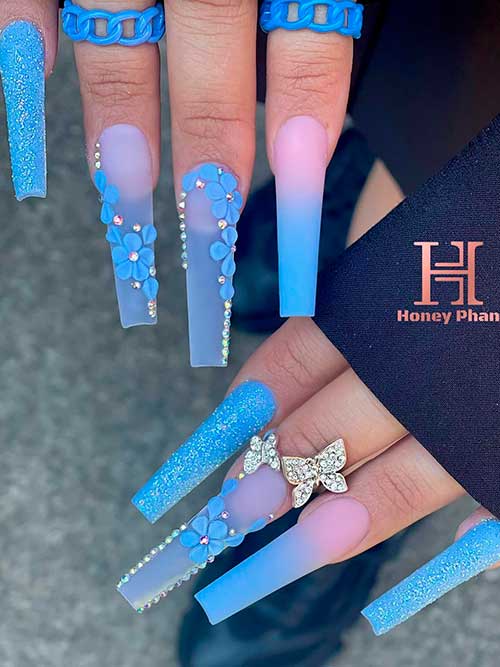 Matte blue ombre nails with flowers are feminine and stylish. Ombré can also mean shiny. The base color can be pastel, strong, or a mix of both.
7. Stylish Ombre Mani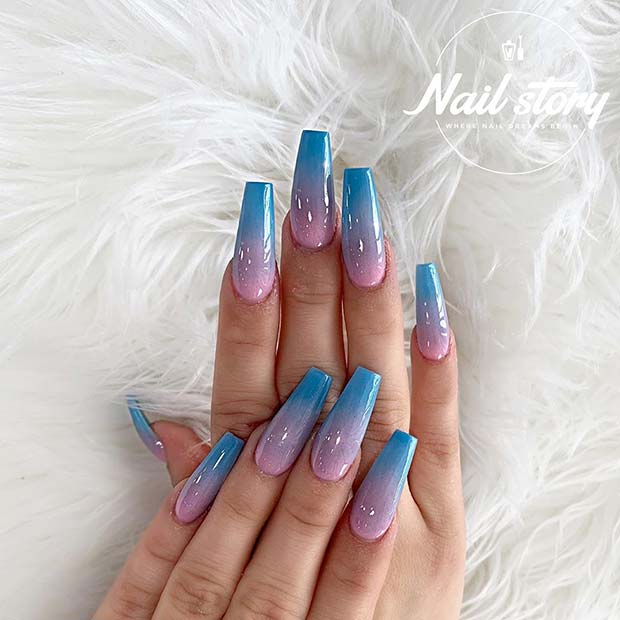 Like vibrant nail art? This may suit you! Summery, vibrant nails. This look begins with pale pink nails. Blue appears midway. Beautiful light pink and blue!
8. Beautiful Blue-Black Ombre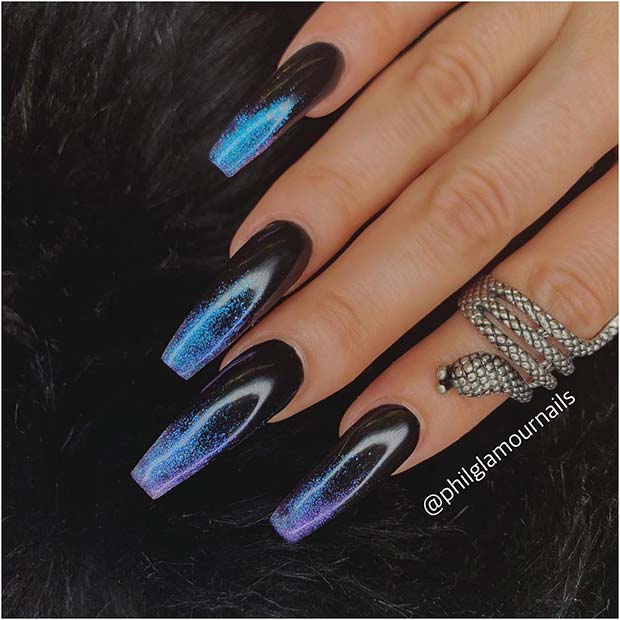 Long black nails with blue ombre sparkles. The nail artist's page has a video of the nails moving to show off the shine. Special occasions require these nails.
9. Royal Blue Ombre Nail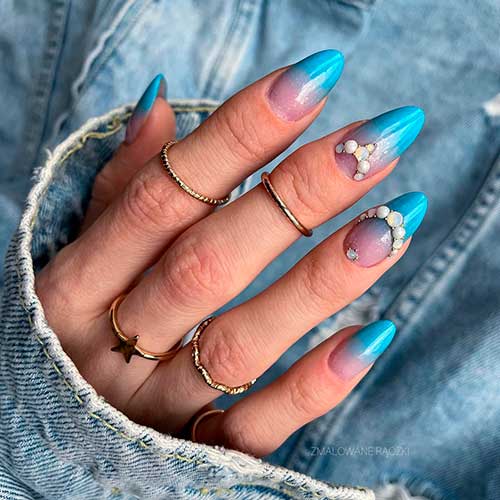 This gorgeous blue colour is worth wearing. Ombre-shimmer nails are great. Royal and ombre colors look great too. This nail art is perfect for ombre nails.
10. Baby Blue Ombre Nails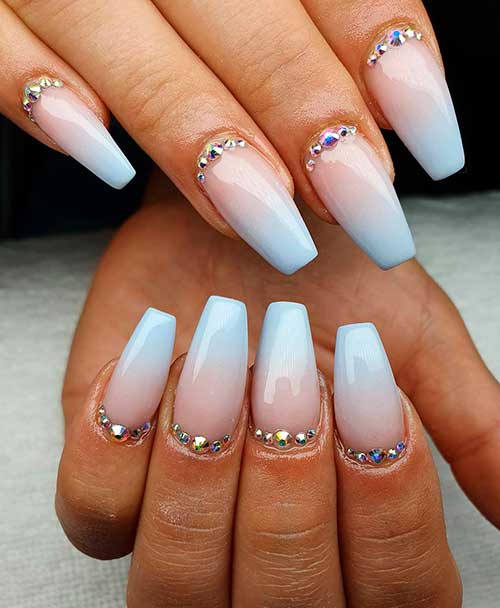 Our next beautiful nail design is fashionable and modern. Baby blue ombre nails evoke waves. So you'll think of beaches and margaritas. It calms when dipped in glitters.
1. Nails in a Blue Marble Finish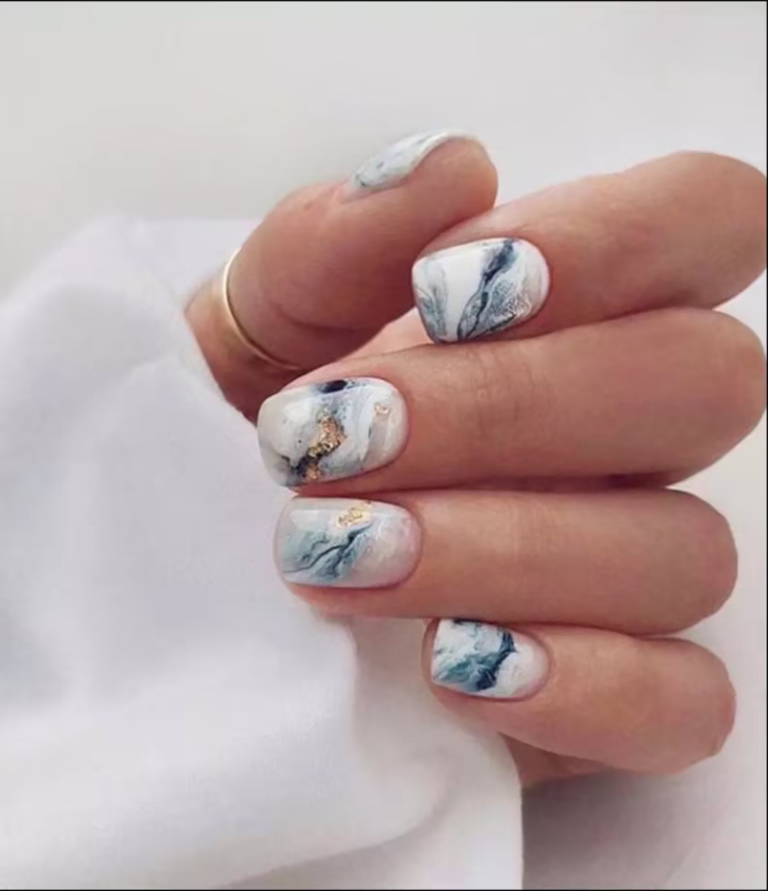 2. Baby Blue & White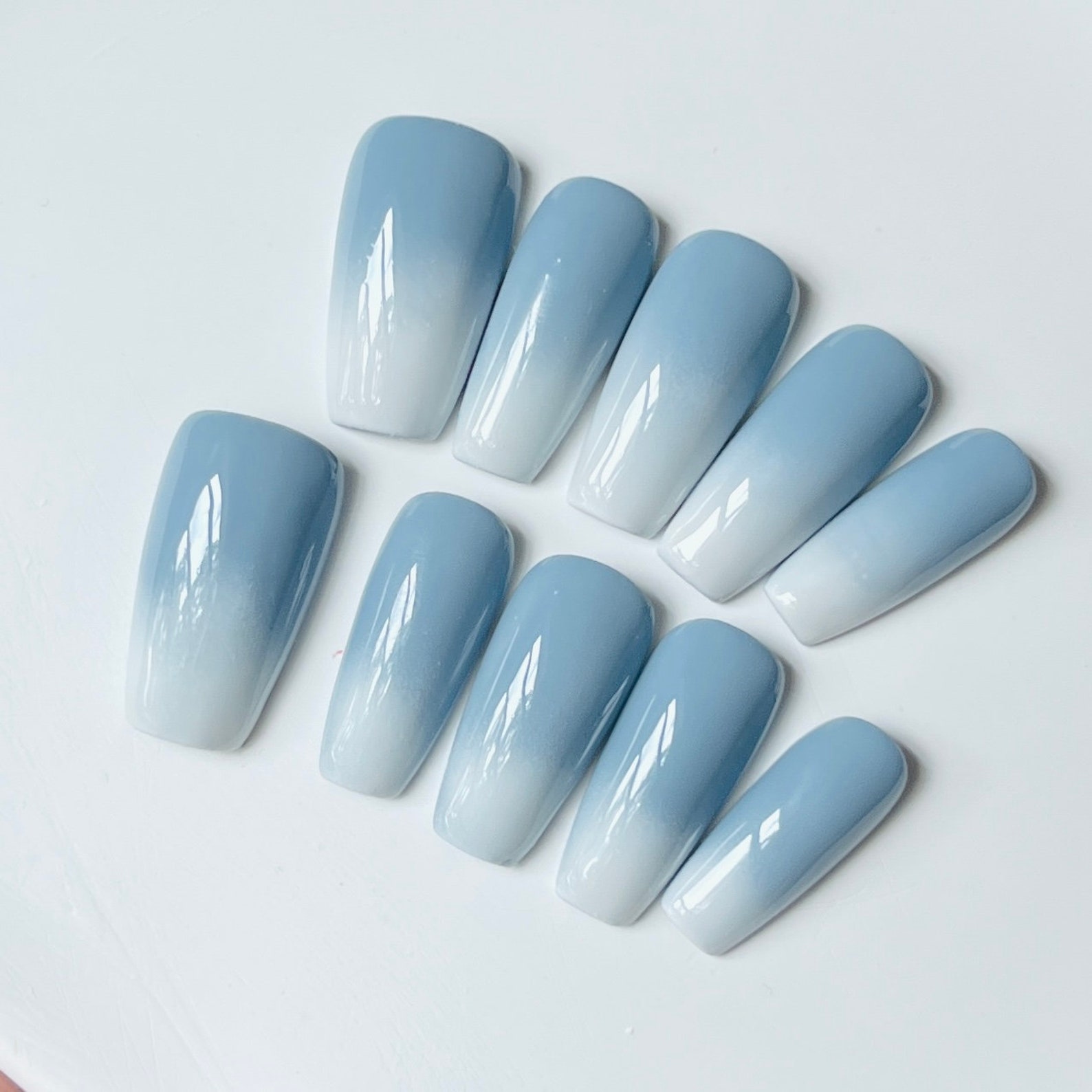 3. Blue & White Combiation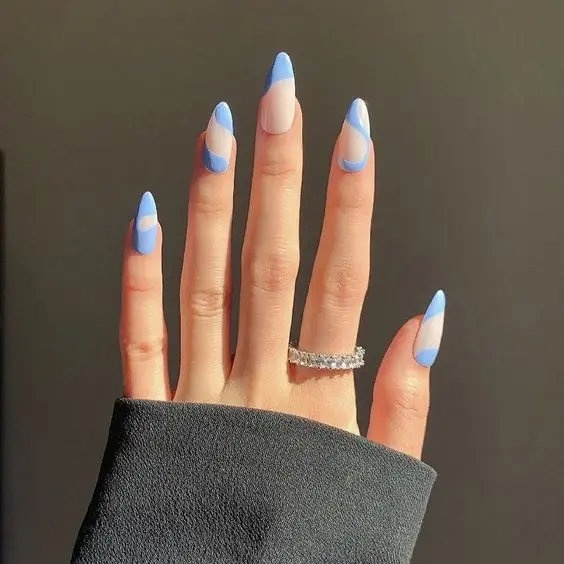 4. Royal Blue & White Vivid Nails
1. Navy Blue Jeweled Coffin Nails
A stunning jewel design might be the finishing touch on a daring mani of matte navy blue. You'll definitely turn heads in this one, as it combines beauty and edge.
2. Blue Glitter Matte Nails
All nails start with matte navy blue paint. For a traditional, delicate manicure, add matte blue glitter to your nails, focusing on tips.
3. Navy Blue Marbled Nails
Marbled design lends sophistication to this aesthetic. Reproduction is simple. These matte navy blue nails with white and gold marbled motifs on alternating fingers are perfect for muted nail art.
4. Navy Blue Matte Constellation Nails
The night sky fascinates me. Stars and constellations calm me. If you agree, try navy blue matte nails like these to unleash your creativity!
5. Nude And Matte Navy Blue Nails
Navy nail polish with a nude or light pink accent nail is perfect for bold color lovers who want something less intense than a deep blue. It's elegant and easy to wear.
6. Matte Navy Blue Coffin Nails
The matte navy blue and silver of these coffin nails create a wintry scene. You can't go wrong with a blue or white sweater for this season when rocking this style.
7. Navy Blue & White Almond Rhinestone Nails
Almond-shaped matte navy blue nails with white ring fingers can spice up your manicure. Rhinestone-decorated white nails stand out against the blue sea.
8. Navy Blue Stiletto Nails with Glitter Accents
These nails are perfect for an attractive, unique paint look. Stiletto-shaped nails suit this stylish but edgy manicure.