We researched over 50 Tattoo shop in Wichita, KS and out of these, we've listed the 3 best and most popular Tattoo Shops location in Wichita according to user reviews, our research, and popularity.
Also See: Find Best Tattoo Shops Near Me (Search By Zip Code)
1. Addictions In Ink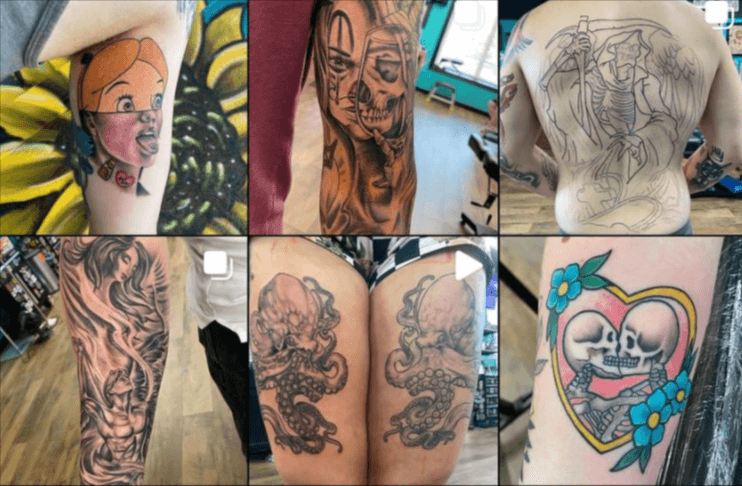 If you're looking for the best tattoo shops near me in Wichita or nearby areas in this city then I would like to recommend you to visit Addictions In Ink. Addiction In Ink was founded in 2008 and this tattoo studio is conveniently located 1255 S Tyler Rd suite a, Wichita, KS. The best thing is that some of their tattoo artists have reserved several awards for their work and great customer service.
This is a customer friendly tattoo studio with artists who specialize in all styles; color, black and grey, tribal, fine line, traditional, old school, new school, realism and portraits. Addictions In Ink is licensed by the Kansas Board of Cosmetology and they use only medical grade sterilization that is tested by 3rd party spore testing every month. They also test in house every week to ensure you get the cleanest and safest tattoo you can get.
They offer tattoos in any style and piercing every day and they only use the best quality of jewelry and keep the highest standard in cleanliness in the shop. So if you're looking for the best tattoo shop in Wichita then this would be an ideal place to get tattooed or piercing.
Address: 1255 S Tyler Rd suite a, Wichita, KS 67209
Phone: (316) 260-1731
Open Hours: Tue – Sat (12-8 pm), Sun & Mon (12-6 m)
Website: http://addictionsinink.com
2. Hell Bomb Tattoo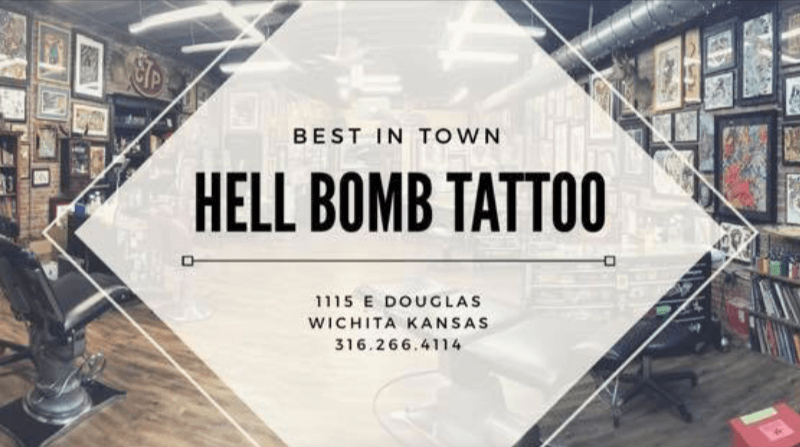 For some reasons, if you're not interested with first one then check out Hell Bomb Tattoo which us another one of the best tattoo studio in the Wichita city of Kansas state. We're recommending this studio because Hell Bomb Tattoo has been a staple of beautiful downtown Wichita for more than 10 years.
You will experience one of the most beautiful tattoo shops in the world, maintaining tradition with modern flair. Sticking to traditional while adding modern flair, their team of experienced and versatile artists are able to accommodate any tattoo need from small and simple to large scale, full body work and cosmetic tattooing.
They love what they do and they want to give you the best tattoo possible. You have to note down one thing is that they work by appointment and also take walk-ins daily. From classic to custom to permanent makeup and microblading, they have the service for you. One thing you should know before visiting here is that they don't do piercings.
Address: 1115 E Douglas Ave, Wichita, KS 67211
Phone: (316) 266-4114
Open Hours: Tue – Fri (12-8 pm), Sat (10 am – 6 pm), Sun & Mon (Closed)
Website: http://www.hellbombtattoo.com
3. Artist At Large Tattoo
If you're not happy with the above two options then visit to Artist At Large Tattoo. Artist at Large Tattoo started in 2002 in the small Kansas town of Wellington. After several prosperous years the shop moved to 1125 east Douglas in Wichita, KS in 2004.
This is professional tattoo shop where they don't offer piercing. You can stop by the shop for a consultation, or to get an appointment scheduled. In this tattoo shop of Wichita, you will find five State Board Certified artists experienced in many styles of tattooing.

They pride themselves in several areas including customer service and having a wide range of artistic styles and artists available for your specific tattoo desires. Also, they like to combine the vibe of a full custom tattoo parlor with a walk-in street shop.
They schedule individual larger pieces during the weekdays, taking walk-ins whenever possible. On Saturdays they offer walk-ins on a first-come, first-served basis.
Address: 1125 E Douglas Ave, Wichita, KS 67211
Phone: (316) 260-1200
Open Hours: Tue – Sat (12-8 pm), Sun & Mon (Closed)
Website: https://www.artistatlargetattoo.com