Tattooing is something that screams your distinct personality without even pronouncing a single word. Here at Phoenix, you can find several outstanding tattoo shops housing skillful artists specializing in different styles.
Below in this article, we have shortlisted 7 top-rated tattoo shop where you can visit to get amazing tattooing or piercing experience.
There are many styles of tattoos, including religious, cultural, floral, artistic, and more. Everyone has their own personality and temperament, and tattoos, as a cultural symbol, embody individuality and courage.
If you are the manager of a tattoo shop, when a customer is hesitant about the tattoo design, you can customize stickers with different patterns to facilitate the customer's choice, and you can give the sticker to the customer as a souvenir. It can be used to decorate mobile phones, cars, or computers. I believe customers will like it very much.
Of course, if you don't know how to customize stickers, you can choose to customize stickers at GS-JJ.com. They come in different styles to show your personality and complete your design!
1. Grand Avenue Tattoo & Piercings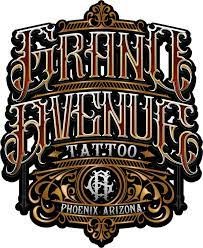 With more than 7 years of experience, Grand Avenue Tattoo and Piercing has earned its name among the top-rated tattoo shops in Phoenix, Arizona. Their tattooing is one of the most affordable and safest options available in the state of Arizona.
Because they offer flat rates in tattooing that starts at $100 or $150 per hour, and they use modern autoclaves for sterilization procedures that include a new package needle for each tattooing.
With the help of in-house tattooing artists and guest artists, they offer all kinds of works. Although specialty lies in portrait, littering, color, custom tattoos, and cover-up, you can find everything from Traditional, Cultural, and religious to Script, Tribal, and Floral. You can find everything you want.
Although they accept walk-ins any time, you can also book an appointment through their official website.
Website: https://www.grandavenuetattoopiercing.com
Address: 1502 W Camelback Rd Suite 1, Phoenix, AZ 85015
Shop Hours: Sun – Thu (12pm – 8 pm), Fri – Sat (12 pm -9 pm)
So this place is awesome and I feel comfortable being here. Spider was my artist of choice and hands down he does great work. I've also had a couple piercings and they turned out amazing. I love this tattoo shop and will definitely be back thank you for your amazing work!!
Second time in the shop. Great atmosphere and awesome staff. My wife and I came in to get tattooed for our anniversary. Gotta say Q hit it out of the ball park. Very detailed literally what each of us had envisioned!!! Today we brought our daughter in for a piercing and that went awesome as well. Already planning our next tats!
This tattoo and piercing shop is amazing! Artists are very nice and honest with their work! I only got a septum piercing and it was done perfectly! Will definitely come back for more work!
Wes was so good with my love piercings! He was very reassuring and made sure I was comfortable and knew everything I needed. The staff is all very friendly and professional. I would definitely come back
Garrett was my artist and he did an amazing job for me and my sisters tattoos! He was professional and efficient. Made me feel comfortable because I was a little tense because it's been years since I got a tattoo. We traveled from Detroit,MI and we will definitely be back next year to get another one
Also See: Best Tattoo Shops Near Me | Find By Zip Code & City-Wise List
2. Chosen Art Tattoo Phoenix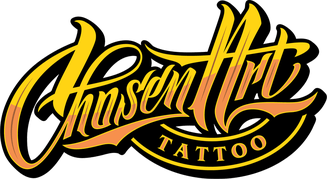 If you want a custom tattoo that you are willing to wear in your body for a lifetime, Chosen Art Tattoo in Phoneix is the right place. Along with a strong vibe of professionalism, you will also find the place to be very clean. Here, you will find blending your vision with their artistry to produce the best custom-designed tattoo for you. You are also getting options of choosing a custom tattooer from many qualified ones, and you can even see fine arts created by them in the studio's art gallery.
If you visit their official website, you can even take a virtual shop tour. And in case you got any questions regarding tattoo aftercare, you can always contact them by calling or by visiting the link provided on their website. They also organize events to showcase the new arts created by their artists and sponsor tattoo contests.
Also See: 50 Latest & Simple Tattoo Ideas for 2023
Website: https://chosenarttattoo.com
Phone: (602) 504-3767
Address: 7146 N 57th Dr suite B, Glendale, AZ 85301
Shop Timing: Tue – Thu (12 pm – 9 pm), Fri – Sat (12 pm – 10 pm)
AMAZING artists!! So clean and knowledgeable. Tim is always so nice and his line work is out of this world!! I have many tattoos from him and I rarely ever go anywhere else. My expectations are always blown away by how amazing my tattoos turn out! I highly recommend Tim and Eric!!
Super chill environment. Alex did a great job and the price is super decent! I contacted her on Wednesday to set something up and she saw me that Saturday. She was also able to see my friend last minute as well! Thank you again, Alex! 💕 I will definitely be making my way back here for sure!
I had some new designs done here on my shoulder and arms. Great prices, very clean and relaxed atmosphere. Great team of artists and they helped me expand on my idea of what I wanted with Irish tattoos. Owner came over and asked how everything is coming along. I will be back!
The studio is really nice and the artist are very pleasant. I talked with Eric while he waited for a client and the conversation was great. Alex did the work on my wife's tattoo and she was super professional and her work is top notch. I'm always cautious about working with new artists but you won't go wrong here.
I was super intimidated to get my first tattoo, especially after a poor experience reaching out to other artists. The studio is clean and welcoming, and Sierra was super chill and asked a lot of questions to get an idea of what I wanted. I felt really comfortable with her. I am happy with my experience and thrilled with my tattoo!
3. Limitless Ink Tattoo & Piercing Shop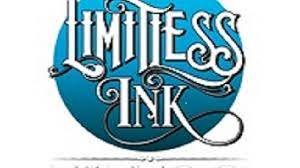 Here at Limitless Ink Tattoo and Piercing Shop, you can expect an unparallel experience in the whole process of tattooing, from the first consultation to aftercare. They are very much aware of the fly-by-night tattoo shops that are unhygienic, including unlicensed artists. And that is why they offer a safe and comfortable environment for tattooing by maintaining a higher standard of cleanliness and tattoo quality.
If you are a first-timer, this may be the best place for you as they are known for their time and attention to the first customized tattoo that will be just as clean, bold, and bright as you want it to be. You can always consider a walk-in, and there is a chance that you won't get disappointed. And to get a quote on your custom tattoo, call or visit their website, where you will also get updated with new offers posted quite regularly.
Phone: (602) 332-4114
Address: 13050 N Cave Creek Rd, Phoenix, AZ 85022
Shop Timing: Sun – Mon (11 am – 7 pm)
I had a great experience! I've been to other places that took forever to get the tattoo started and Bingo was really quick and all around awesome. He was really cool and I'll definitely go back to him! Great work!
Bingo is phenomenal. Not only an amazing artist but a dope author and kind hearted person. It was a pleasure getting to know him while he made my arms look beautiful. 👌
Me and a friend got a tattoo here and honestly it was a super fun and easy visit. Our artist was lovely and kept up with easy conversation and made us both feel relaxed and comfortable. It was my friend's first tattoo and she enjoyed it and will definitely come back for more!
The studio is really nice and the artist are very pleasant. I talked with Eric while he waited for a client and the conversation was great. Alex did the work on my wife's tattoo and she was super professional and her work is top notch. I'm always cautious about working with new artists but you won't go wrong here.
Bingo was kind compassionate and very patient with my daughters as they wanted matching tattoos and had difficulty deciding on one. I am grateful he helped make it a pleasant experience and did a great job .They love their tattoos
4. 27 Tattoo Studio
Suppose you are looking for a fun environment where your tattooing artist gives attention to every minute detail of the tattoo but with no attitudes while making you feel at home. In that case, 27 Tattoo Studio may be the right place for your tattooing Phoneix. They specialize in high-end custom tattoos where they believe that any idea can be created.
Special attention is needed for describing their hygiene because they are an all disposable studio which means they use completely disposable plastic tubes.
To eliminate risk, every member of the studio is trained and certified in cross-contamination procedures.
US BIO-CLEAN safely disposes of their biohazards according to Health Department Standards.
You can even make special arrangements for yourself by communicating the same requirements with your artist before the appointment. This special arrangement ranges from arranging a wheelchair-accessible station to what pronoun you want your artist to use.
Website: https://www.27tattoo.com
Phone: (602) 633-2607
Address: 600 N 4th St #141, Phoenix, AZ 85004
Shop Hours: Wed – Sun (11 am – 7 pm), Mon & Tue (Closed)
There is no better place in Phoenix to get work done. Period. End of story. I've had work done by multiple artists here and every single time, it turns out absolutely beautiful and stunning. They are friendly, professional, easy to work with, and if you're looking for skilled work, look no further.
This was my first tattoo and I can't tell you how happy I am with the results and the treatment. My tattoo artist was Julian and he made the whole process a great experience.
I've had Genesis for a couple tattoos now and I am just blown away everytime. They do a phenomenal job, take their time and just seem to know exactly how to make it perfect. I highly recommend them! The whole shop is great and I'm grateful to have found this place. I will definitely continue getting more here!
Genesis is such an angel, honestly. They go above and beyond and create such a safe space! They tattooed my calf, which is a meaty part of my body so obviously it's very sensitive and twitchy, and they were so nice and gentle. I cannot wait to get tattooed by them again, they're genuinely such a good artist and such a kind person.
I had the best experience with Genesis at 27 tattoo studio! They were great with communication and made my whole experience wonderful. I am new to tattoos and Genesis took the time to make sure I was well prepared before the day and also very thorough with after care instructions. 10 out of 10 would recommend!
5. HIGH NOON TATTOO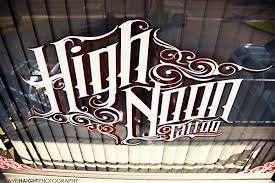 An owner-operated tattoo shop with more than 40 years of collective experience, the HIGH NOON TATTOO shop in Phoenix offers tattooing services to customers in a fun, clear, and relaxed environment. From a custom big back piece to the smallest part of the flash, they create any tattoo you want.
You can find an artist for every single style they specialize in. Their specialization ranges from Neo-traditional to traditional American tattoos and from Asian large-scale work to black and grey realism, including cover-ups for every kind. Although their highly sought-after artists have a waiting list, you can still walk in and get yourself tattooed on time. You can always book an appointment by visiting their official website.
Website: http://www.highnoontattoo.com
Phone: (602) 266-1772
Address: 4215 N 16th St #9, Phoenix, AZ 85016
Shop Hours: Mon -Sun (12 pm – 8 pm)
Ryan is a super cool dude and a very talented artist. Not cheap but definitely worth it. The whole staff is super friendly and laid back. If you are looking for black and white realism, talk to Ryan.
Super clean and dope place. I got 2 line work pieces done today by Vinnie. Such a chill and awesome guy! He listened to what I wanted and adjusted when I asked. The tattoos turned out better than I envisioned, I am so in love with them! Also he was super quick lol it took less than 1 1/2 hours with everything.
Had a great experience with Willie! My sister and I called for a walk in and had tattoos done perfectly with the next hour. These guys are so chill and easy to work with, and it was so much more relaxed than all my other tattoo experiences. So happy, thank you!
My experience at high noon was excellent! Vinnie is not only a badass tattoo artist he's a really down to earth dude that's super easy too talk too ! Would highly recommend checking out this shop! 5 stars
Had my 2nd time being tattooed by Andrew Tamayo and it turned out just as great as the first time. He took my idea and turned it into a dope tattoo with excellent shading and line work. By far the best tattoo artist I have gone to and will be the only I'll go to.
6. Goliath Tattoo
If you are looking for specialized tattooing services in realism and illustrative tattoos, Goliath Tattoo Studio may be the right place. No matter how big or small a tattoo is, they provide the same care for every kind. Apart from tattooing, their piercing service is very good, thanks to their piercing artist Kendra. If you have any questions regarding piercing and jewelry, you can always ask Kendra, who is very friendly and personable.
You can find fair-priced jewelry with a wide range of collections. With a private room for each artist, the environment in Goliath Tattoo is much cooler and feels personal. Here Walk-ins are welcomed. And you can book an appointment through their website or by calling them directly.
Website: https://www.goliathtattoo.com
Phone: (602) 513-8001
Address: 13601 N 19th Ave Suite 7, Phoenix, AZ 85029
Shop Hours: Wed – Thu (12 pm – 8 pm), Fri – Sat (12 pm – 9 pm), Sun (12 pm – 7 pm), Mon – Tue (Closed)
Katie was super chill and worked with me even though I was a walk-in. She created a great piece with what little info I provided her. Very satisfied with my tattoo and it's originality.
I got work from Kendra and Kaylie on both a tattoo and piercings. Professional and friendly. They made it a wonderful experience. Incredibly clean studio. I have no doubt that we will be back to have more work done by these fabulous ladies.
Seriously such a great experience from the second we walked in the door. My friend and I got forward helix piercings by Kendra and the entire process was so enjoyable. We were laughing the entire time with Kendra and our piercings came out perfect!
Kendra was AMAZING! Made my noise piercing experience actually enjoyable if that's even possible. Very helpful & I got exactly what I wanted. I've already booked another appointment for another piercing.
Went with my daughter and I was highly impressed with the service and quality of work they so obviously take pride in. I would absolutely most definitely recommend Kendra and Goliath tattoo to anyone deciding on taking on body art. Experience with a personal touch. Customer service in color and expresssion.
7. Blind Tiger Tattoo
Most of the customers who gave an online review on Blind Tiger Tattoo emphasized amazing high-quality custom work along with a clean and sterile environment. One of them also remarked, "I don't trust my skin to any other shop!". The artist who works there has a personal website of their own, and you can always visit the official website of Blind Tiger Tattoo.
This tattooing shop is made special by three artists, namely Eric James, Dylan Loos, and Ty McEwen. For booking or consultation, you can visit their website or make a call to their studio.
Website: http://blindtigertattoo.com
Phone: (602) 955-0566
Address: 3748 E Indian School Rd, Phoenix, AZ 85018
Shop Hours: Tue – Sat (12 pm – 9 pm), Sun (12 – 6 pm), Mon (Closed)
Dillon did an amazing job on my tattoo! Very professional and great work. I am very happy with how my tattoo turned out and will be going back for future work.
Eric James is awesome. The guy has been in the business for quite some time and it shows. He is a great artist and a patient tattooist. His eye for detail is exceptional. I am super happy with my tattoo. The only downside is that he works 16 hours from my hometown. Definitely will be back any chance I get.
It was my first time getting a tattoo. Jared was great and made it a really good and comfortable experience. Love my new tats. The store is very clean and comfortable. Would definitely recommend these guys to anyone.
I absolutely loved this place. When I came in I was made to feel welcome. The power went out for a couple of hours, but they guys (both artists and clientele) we're great company. My tattoo was free handed by Eric and came out absolutely amazing, I couldn't be happier. I would recommend this place in a heartbeat!!
Ty McEwen did the tattoo featured with this review. An amazing artist along with the others that are there. Great bunch of guys, awesome place. Amazing Thai food in same plaza for after your visit!