We researched over 50 pawn shop in New York City, and out of these, we've listed the 5 best and most popular pawn shop according to our team research, customer reviews, and popularity.
Also See: Find Best Pawn Shop Near Me (Search By Zip Code)
1. New Liberty Loans Pawn Shop

New Liberty Loans Pawn Shop is Manhattan's top pawn shop specializing in collateral loans and gold buying in New York City. This is a family owned and operated since 1979, they have been helping customers secure CASH loans for more than 30 years.
New Liberty Loans Pawn Shop has been designated an essential business providing financial services by the State of NY. They offer cash for Gold, Silver, Diamonds, Fine Watches, Jewelry, Designer Handbags, gift cards and more. Also, they are a top rated pawn shop and gold buyer in NYC for providing cash for over 30 years.
One of the best things in this pawn shop is that they offer low rates and TOP PAYOUTS including 0% interest for the first month. This pawn shop is known for their personal service, convenient location and the best rates in the city. So when you need cash quickly, they are here to help you. They are licensed by the New York City Department of Consumer Affairs: DCA-1304173.
Address: 67 W 47th St, New York, NY 10036
Phone: (212) 278-8282
Open Hours: Mon – Thu (9 am – 6 pm), Fri (9 am – 4 pm), Sun (10 am – 6 pm), Sat (Closed)
Website: https://www.newlibertyloans.com
2. Lincoln Square Pawnbrokers 
If you're not happy with the first option then you can visit Lincoln Square Pawnbrokers. This pawn shop has been operating since April 1946 in New York City. Throughout 70+ years in business, the ownership has remained the same, and the ethical practices and customer relations which they've always prided themselves on has remained unwavering.
They have been catering to New York's Upper West Side, setting themselves apart from the competition by giving customers grace periods that extend well beyond what New York State law mandates. They have also done so by priding themselves on ethical business practices, outstanding customer service, as well as bargain retail prices.
Address: 724 Amsterdam Ave, New York, NY 10025
Phone: (212) 865-8860
Open Hours: Mon – Sat (9:30 am – 5 pm), Sun (Closed)
Website: http://www.lincolnsquarepawn.com
3. LoanRus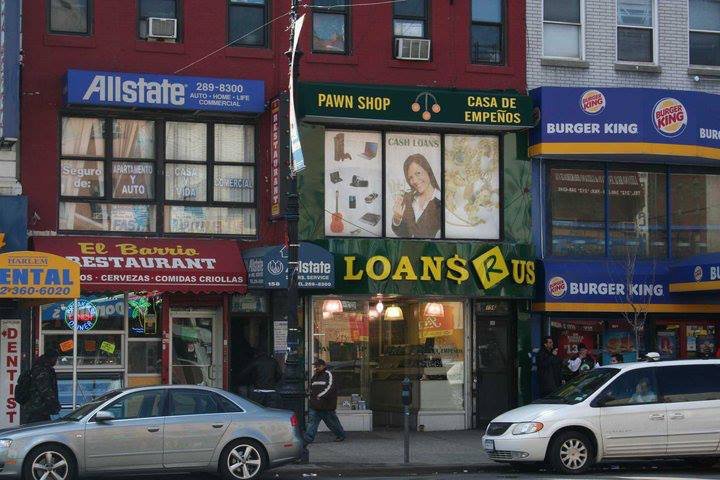 LoansRus Pawnshop is a collateral pawnbroker that offers on the spot four month cash loans secured by items of value (collateral). Apart from that, here you can also buy and sell pre-owned consumer electronics, jewelry, watches, tools, musical instruments, cars, boats, antiques, art, coins, collectibles, sports memorabilia, bicycles and more.
So if you want to buy or sell any of the above items and would like a fantastic deal on a quality product then you can visit this pawn shop or you can directly call them. Let me let you know if you're having trouble finding the location of this pawn shop. LoanRus is conveniently located in New York City on the Upper East Side. And they're proud members of East Harlem's diverse landscape.
For the convenience of their customers, they also offer on premises jewelry repair and cleaning as well as electronics repair. LoanRus offer repair services for various items including cell phones, tablets, screen repairs, laptops, apple products like iPhones and iPods, game systems and televisions. Moreover, here you can also get your device's virus removed and data recovered.
Address: 156 E 116th St, New York, NY 10029
Phone: (212) 996-2675
Open Hours: Mon – Sat (10 am – 6 pm), Sun (Closed)
Website: http://www.nyc-pawnshops.com
4. Gem Pawnbrokers

If you know a little bit about Pawan Shop, then I am sure you must have known about this shop. And if you do not know, then let us tell you that for 73 years, GEM has been New York's Greatest Pawnbroking business with a culture that enforces a total customer satisfaction experience along with safe and secure financial solutions.
Now if you're searching for the pawn shop in New York City and not interested in the above options then you can turn here. GEM is one of the largest pawnbrokers in the New York City area with 24 branches and 70+ years in business. GEM Pawnbrokers in New York City provides a full range of pawn services for selling your gold, jewelry, electronics, diamonds, gift cards and more. They also provide instant cash loans.
Address: 608 8th Ave #1, New York, NY 10018
Phone: (212) 730-1124
Open Hours: Mon – Fri (10 am – 6 pm), Sat & Sun (Closed)
Website: https://www.gempawnbrokers.com
5. NY Pawnbrokers, INC
N.Y. Pawnbrokers first started in the year of 1983 as the Largest Pawnshop in the Bronx, New York. Also, In the Mid 90's they opened Manhattan's largest pawn shop on the Lower East Side. Yes, there are two pawn shop locations in NYC of this company. And not only that, they designed each location large enough to give their customers the option of pawning or selling their merchandise.
For being New York's ultimate pawnshop, they are the only pawn shop in New York where you can give everything to them, whether pawning or selling. From jewelry to cars to DVD movies, their working staff works hard to give each customer the most money for your items. Each store of this company also provides top used merchandise for sale at discounted prices.
Address: 177 Rivington St, New York, NY 10002
Phone: (212) 228-7177
Open Hours: Mon – Thu (10 AM – 6 PM), fRI (10 AM – 4 PM), Sat & Sun (Closed)
Website: http://nypawnbrokers.com