For as long as any of us can remember, cornrows braid has been one of the most common and fashionable haircuts for black men. Cornrows are a smart choice for protecting natural hair, and in addition to that, you may rock a cornrow hairstyle in any way, shape, or form, and they will always have a modern and stylish appearance.
Simple Cornrow Hairstyles
We'll start with simple styles and then go up. Cornrows are braided from the hairline to the base of the neck. If it's your first time, try the below strategy.
Kids Cornrow Hairstyles
Cornrows for kids are a great idea, parents. With braids, your son will feel like a king. Let boys help choose their style to foster creative expression.
Crown Cornrow Braids Hairstyles
What has a royal aura? Crown-braided cornrows. First, decide which braids will be the focus of your hairstyle. Finish with a heavier crown braid.
Small Cornrows for Men
Braids come in many sizes and shapes. Men prefer smaller braids like those above. The trend peaked in the 1990s and 2000s, but it'll return.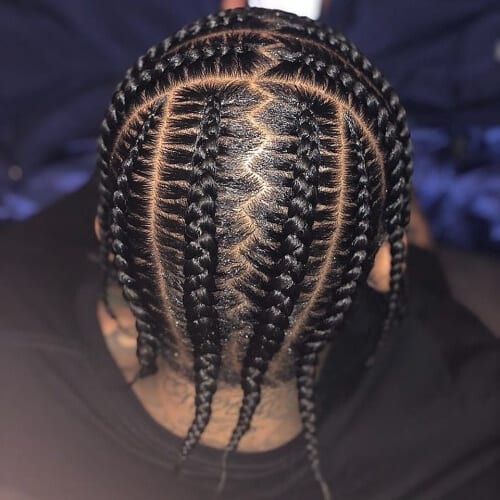 Big Cornrow Hairstyles
However, thicker braids are up for exploration. Those with longer or thicker hair should go for a larger size so that they have more material to style.
Taper Fade Braids
Taper fade haircuts have been popular among guys in recent years. The cutting style looks great on every man we've seen. Taper fades can finish top-focused cornrows in braiding.
Side Cornrows for Men
Side cornrows are another option. To complete your main hairstyle, you must braid your good side. You decide which hairstyle shines.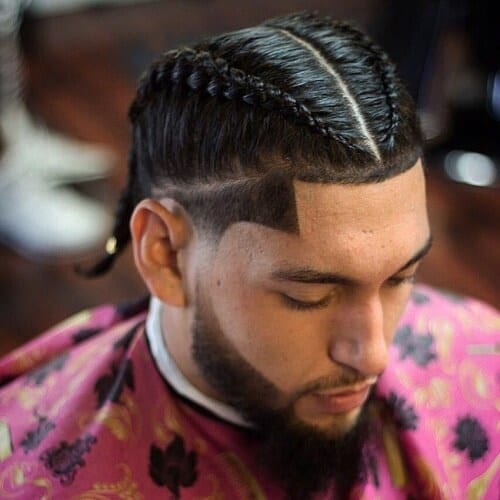 2 Cornrows for Men
You can have any number of braids. If you don't want to spend hours in a chair braiding your hair, opt for two cornrows. You'll save time and energy without sacrificing style.
Trey Songz Braids
Celebrities have worn cornrows for years. Trey Songz illustrates that R&B singers favor the hairdo. His typical braids are clean and straightforward.
Half Cornrow Hairstyles
You don't need to braid all your hair. Half-braid hairstyles are cool. If your hair is naturally voluminous, tie back your textured coils.
Tyga Braids
Tyga has picture-perfect braids. The rapper braids front-to-back. He also favors thicker braids. Recreate his look?
Braided Top Knot
If you wear braids with an undercut, you'll need a top knot. Since the braids won't go down your head, you must tie them up. A guide is all you need to do cornrows with a top knot at home.
Jumbo Cornrow Hairstyle
Want your braids to shine? Bigger means more noticeable. Jumbo braids are a time-saver for men on the go. Even gigantic braids narrow towards the neckline.
Asian Cornrow Hairstyle
We devoted a whole article to Asian men's hairstyles. Asian men may struggle with cornrows. Finer hair is harder to tame. They're both cool.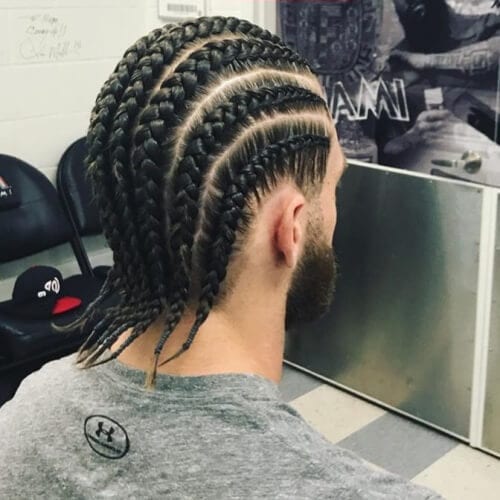 Bryce Harper Cornrow Hairstyle
Baseball fans couldn't have missed Bryce Harper's braids in 2017. This illustrates what men with thick, straight hair can do with cornrows. Practical and aesthetic uses are both possible.
Crisscross Braids
Your braider is the artist. You can construct anything together. You can add crisscross weaving to larger braids, for example. Impressive outcomes.
Mohawk Cornrows
Men's mohawks are fierce. Not all men are willing to shave their sides. Side braids make a rebellious temporary mohawk.
Cornrow Hairstyles with Beads
Once you have braids, you can further customize your look. Metal beads can give your outfit personality. They're a unique accent in gold or silver.
Infinity Braids
Braided hairstyles require creativity. Keep things basic and clean. You can get crazy with braiding styles, though. Below are examples of infinity braid cornrow hairstyles.
Ludacris Cornrow Hairstyles
Ludacris wore shoulder-length braids throughout the 2000s. If you use fancy clothes or accessories, try normal braids.
Angled Braids
Any competent braider examines several things before recommending a style. Their head, hairline, forehead, and face shape are the ultimate recommendation. Men with the below feature look great with angled braids.
Source & Pic Credit: menhairstylesworld.com