Nails have become a popular platform for expressing one's individuality and sense of style in the area of cosmetics and personal presentation. While nail salons have always been the go-to for manicures and nail art, a new trend known as "Static Nails" has been taking the beauty industry by storm. Press-on nails are a novel and elegant alternative to regular nail care, and they've been gaining appeal among trendsetters.
What are Static Nails?
The beauty business has been caught by storm by Static Nails, premium, reusable press-on nails. Static Nails, the idea of a teenage entrepreneur named Alexis Irene who launched the company in 2011, transformed fake nails from a functional need to a form of self-expression.
Unlike regular press-on nails, which tend to look fake and peel off fast, Static Nails provide you with a luxurious experience with a high-end aesthetic and long-lasting wear. These nails are available in a wide array of styles, sizes, hues, and patterns to suit a wide variety of tastes and situations.
The Advantages of Static Nails
1. Easy Application
Static Nails' widespread acceptance may be attributed to how simple they are to put on. Anyone can put them in without having to go out and buy expensive tools, and they just take a few minutes to put in. The nails come with an adhesive that is safe for natural nails yet will not damage them when removed.
2. Customization
When it comes to personalization, standard manicures typically fall short, but Static Nails make it easy. Users may express their personality via the customization of their manicures by combining different nail sizes, shapes, and styles. Nails may be customized by filing, shaping, and painting.
3. Time-Saving
Salon visits are no longer a time commitment for those with hectic schedules. Manicures that seem like they were done by an expert may be done in minutes using Static Nails. These nails are perfect for every occasion since they help their wearers seem to put together in little time at all.
4. Durability
Static Nails are far more long-lasting than regular press-on nails. With the right maintenance, they may last for up to two weeks, making them a more cost-effective and durable alternative to regular manicures, which often chip or peel after just a few days.
5. Nail Health
Nails might become weak and brittle from having acrylic or gel applied and removed often. However, Static Nails may be maintained without the use of harmful chemicals or drills, leading to healthier nails and less wear and tear.
6. Versatility
Static Nails offers services for clients with nails of all lengths and styles, from short and subtle to long and dramatic. You may use them to create a wide variety of nail shapes and designs, such as stiletto, coffin, almond, square, or oval, that you would not otherwise try with your natural nails.
7. Environmentally Friendly
Static Nails help lessen landfill contamination caused by throwaway nail supplies since they may be used again. There is a rising consciousness of environmental impact in the cosmetics sector, and this eco-friendly strategy reflects that.
The Evolution of Static Nails
The original concept of static nails has been greatly improved upon. There were naysayers who questioned their durability and reliability at the outset, but as more people began to enjoy their convenience and beauty, their popularity rose.
The company has teamed up with influential designers and tastemakers to create capsule collections that reflect current fashion. Because of their dedication to innovation, consumers at Static Nails get access to the newest nail art and designs before anybody else.
Some Best Static Nail Designs
French Tip. This is a classic and timeless design that never goes out of style. It is perfect for any occasion and can be dressed up or down.
Ombre. This design is a gradual blend of two or more colors. It is a great way to add some subtle dimension to your nails.
Glitter. This design is perfect for adding some sparkle to your nails. It can be used on its own or as an accent.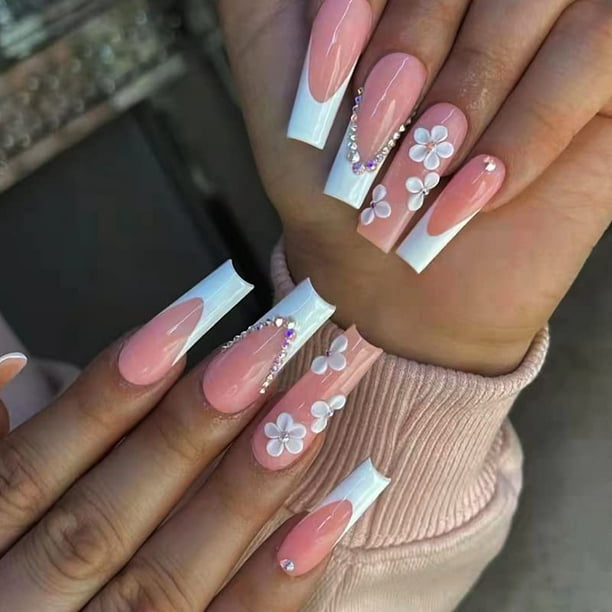 Animal Print. This design is a fun and playful way to add some personality to your nails. Leopard print, zebra print, and snake print are all popular animal print designs.
Floral. This design is perfect for adding some spring or summer vibes to your nails. Flowers can be painted on in a variety of styles, from realistic to abstract.
Geometric. This design is a great way to add some edge to your nails. Geometric shapes can be painted on in a variety of colors and patterns.
Neon. This design is perfect for making a statement. Neon colors are bright and eye-catching, and they are sure to turn heads.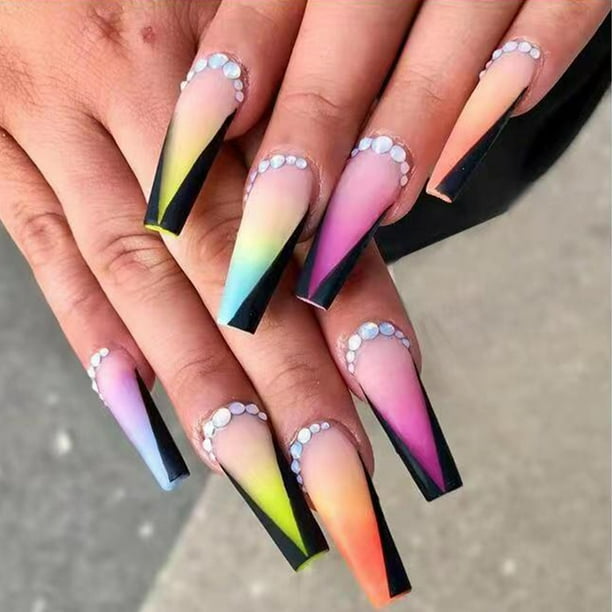 Abstract. This design is a great way to express your creativity. Abstract designs can be anything from simple shapes to complex patterns.
Application and Care Tips
To ensure the best results and longevity of Static Nails, proper application and care are essential:
Preparation: Nails should be clean, dry, and completely devoid of any oils or lotions before the extensions are applied. Smooth the base of your nails by gently pushing back the cuticles and buffing them.
Sizing: Make sure you choose the right nail size for each finger. Nails that are overly long or wide may be trimmed and shaped using a file.
Application: Remove the protective film from the adhesive, then press the Static Nail firmly into the nail bed. Maintain pressure for a few seconds to ensure a strong adhesive connection.
Customization: It is possible to file and shape one's nails into one's desired length and form. To further customize their appearance, users may paint over the Static Nails with ordinary nail polish or add nail art.
Removal: The glue on Static Nails may be loosened by soaking the nails in warm, soapy water for a few minutes before attempting to remove them. Avoid damaging your natural nails at all costs by carefully lifting the nails from the sides.
Storage: Static Nails should be stored in their original packaging after usage and any remaining glue should be cleaned off.
Frequently Ask Questions
What are Static Nails, and how do they work?
Static Nails are superior, reusable press-on nails that simplify nail maintenance. They vary in size, color, and design. Peel off the adhesive backing and firmly press the Static Nail into your clean, dry natural nail. The nails remain put without glue or harmful chemicals.
How long do Static Nails last, and are they durable?
Static Nails may last two weeks if applied properly. High-quality materials prevent chipping, breaking, and peeling, making them more durable than press-on nails. Static Nails endure and are cost-effective.
Can I customize and shape Static Nails to fit my style?
Absolutely! Static Nails are very customizable. Mixing nail sizes, shapes, and patterns creates a personalized aesthetic. File lengthy nails to your desired length and shape. Static Nails may also be customized with nail paint or nail art.
Are Static Nails safe for my natural nails?
When applied and removed correctly, Static Nails are safe for natural nails. They don't need harsh glues or drills, which may weaken natural nails. Static Nails' glue is safe and easy to remove.
Can I reuse Static Nails?
Static Nails are reusable. They may be carefully removed, cleaned, and kept in their original packing for future use since they are composed of high-quality materials. Remove excess glue and store them properly to maintain their form and quality for numerous applications.