There are more than 50 pawn shops in Los Angeles and nearby locations. But in this post, we're listed top 3 and most visited pawn shop of Los Angeles city.
Also See: Find Best Pawn Shops Near Me (Search By Zip Code)
1. Mr. Steve's Pawn Shop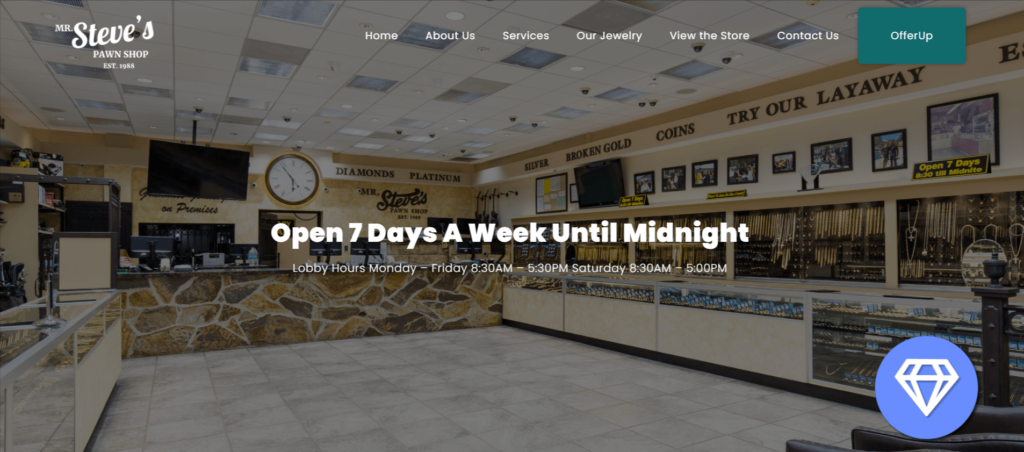 If you're looking for the best pawn shops in Los Angeles and nearby locations then no one is perfect than Mr. Steve's Pawn Shop. This shop is located at 3800 S Western Ave.
Mr. Steve's Pawn Shop provides the community easy access to money in times of need. Mr. Steve's Pawnshop offers collateral loans on many items. Including; Gold, Silver, Platinum, Jewelry, Watches, Diamonds, Coins, Bullion, TV's, Laptops, Game Systems, High-End Bicycles, and many other items.
Mr Steve's Pawn Shop has been providing exemplary service since 1988. They provide confidential, no hassle, immediate cash on a wide variety of merchandise. Their goal is to provide a superior customer experience.
If you need over $2,500 then you can come here with this promo and get a cash loan if you qualify. Mr. Steves can offer you an interest rate as low as 2% monthly.
Address: 3800 S Western Ave, Los Angeles, CA 90062
Phone: (323) 735-0110
Open Hours: Mon – Sun (8:30 am – 12 am)
Website: http://www.mrstevespawnshop.com
2. Zak's Famous 24 Hour Pawn Shop
If you're looking for 24 hour pawn shops within the Los Angeles area then Zak's Pawn Shop would be a great option for you. This popular LA based pawn shop is located at 6767 Santa Monica Blvd.
Zak's Pawn Shop is a licensed, bonded, insured, family-owned and operated company that offers pawn and loan services. They are customer driven and offer quick transactions. The crew at Zak's Pawn Shop looks forward to assisting you with all of your fast cash needs.
At Zak's Pawn Shop, you'll get
Low Interest Rates on Car Title Loans
Loans up to 2 Years for Car Title Loans
Loans up to 8 Months for Collateral Pawns
Interest Rates as Low as 1%!
Free Appraisals
They are open 24/7, 365 Days a year.
They have over 20 years of business experience
Their company offers loans, buys merchandise and sells items of value
They have four locations under the same ownership in California
Their service areas include Hollywood, East Los Angeles, Compton, Huntington Park, Panorama City and surrounding areas
Address: 6767 Santa Monica Blvd, Los Angeles, CA 90038
Phone: (323) 957-9400
Open Hours: 24 Hours
Website: Not Available
3. Community Pawn Shop
This is another very popular place to buy and sell the old stuff. Community Pawn shop is located at 4401 S Broadway. Community Pawn Shop provides loans from $5 to $20,000 with the lowest fee possible. Fees are based on Loan Amount, please contact them for more information.
Community Pawn Shop staff are here to help the local community obtain the source of funds needed fast and easy, with items you already own. They loan on Gold Jewelry, Diamond Jewelry, Gold or Silver coins, High end watches, Professional Audio/Video equipment, Electronics, Power Tools, and Musical Instruments.
They also take all luxury handbags. They buy, loan and sell Luxury handbags, top designer brands such as Hermes, Chanel, Fendi, Louis Vuitton, Marc Jacobs, Prada, and Many more.
Address: 4401 S Broadway, Los Angeles, CA 90037
Phone: (323) 306-0248
Open Hours: Mon – Fri (9 am – 6 pm), Sat (9 am – 2 pm), Sun (Closed)
Website: http://communitypawnshop.com