You'll find hundred of pawn shops in Phoenix city or nearby locations. But in this article, we're going to tell you about 3 best and most visited pawn shop of Phoenix city for all time.
1. Pawn1st
If you are looking for a pawn shop in Phoenix city then I would like to first recommend you Pawn1st. Pawn1st is a growing company that takes pride in setting itself apart from the competition by providing excellent customer service. They believe in building lifelong relationships with their customers. They are a family owned company with 21 pawn shop locations in the Phoenix, AZ area.
Pawn1st are in the business of helping people. Their services are quick, easy and completely confidential. They are fully licensed, insured and offer pawn shop loans anywhere from $5 to $1,000,000. Having more than 60 years of experience in the pawn industry, they set themselves apart from other lenders by genuinely doing everything in their power to loan you the money you need when you need it.
They have GIA-certified pawnbrokers that can properly assess your jewelry for a top-dollar loan. At Pawn1st, "They loan more and sell for less." They sell great products at great prices. Their selection of products is always changing and they have a large variety of merchandise items of all kinds. They take Gold & Silver, Jewelry & Diamonds, Watches, Electronics, Phones & Tablets, Gaming Consoles, Musical Instruments, Tools, Collectibles, Art, Antiques.
Address: 550 W Bell Rd #100, Phoenix, AZ 85023 (Get Direction)
Phone: (602) 688-7428
Open Hours: Mon – Fri (9 am – 7 pm), Sat (11 am – 4 pm), Sun (11 am – 4 pm)
Website: https://www.pawn1st.com
2. Phoenix Pawn & Gold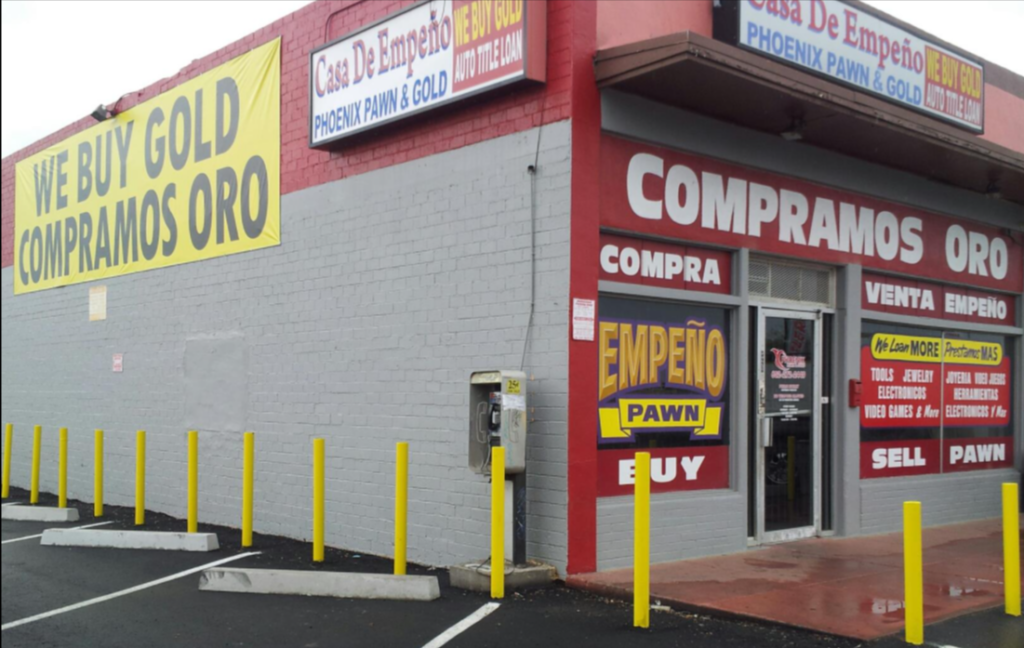 Phoenix Pawn and Gold is another popular pawn shop that Phoenix and Glendale have trusted to buy, sell, loan, or pawn their valuable items for over a decade. They can get their customers instant, fast cash for literally any item of value including silver, platinum, gold, and diamond jewelry, coins, electronics, TVs, cell phones/smartphones, computers, laptops, tablets, watches, designer sunglasses, Jordans, and whatever else of value you might have.
Phoenix Pawn & Gold offers friendly, professional and discreet service as well as instant cash for your valuable items. They can get you a cash pawn loan on anything valuable you have. Auto title loans are another key way to get the hundreds of dollars of cash you might need in a hurry. This shop can make a loan against your vehicle, RV, motorcycle, ATV, mobile home, RV, salvage rebuilt car and you can still drive it home.
They offer appraisals for items that you can turn into cash at no additional charge. So what are you waiting for? Don't let these valuable items sit in your drawer and collect dust any longer. This shop can give you cold, hard cash from them. And you know what, they are also recognized as a: Estate Jewelry Buyer Coin Buyer Collectible Buyer Watch Buyer Diamond Jewelry Buyer Gift Card Buyer (Sell Gift Cards to us!).
Address: 2803 W Van Buren St, Phoenix, AZ 85009 (Get Direction)
Phone: (602) 272-3449
Open Hours: Mon – Sat (9 am – 6 pm), Sun (10 am – 5 pm)
Website: https://www.phoenixpawnandgold.com
3. Pawn Now

Pawn Now has been in business for over 25 years. No matter if you are looking to pawn gold items, jewelry, power tools, musical instruments or anything else of value you might possess that you consider pawning, their trained and experienced brokers can assist you with competent estimates, and competitive rates.
So North Phoenix residents who find themselves in need of a Phoenix pawn loan to make ends meet until the next paycheck comes in should visit or contact Pawn Now today. Pawn Now is equipped with enormous storage capabilities and a first class alarm system and thus is able to take in pretty much any item you would want to pawn or sell while keeping it safe and guarded.
Address: 14601 N Cave Creek Rd, Phoenix, AZ 85022 (Get Direction)
Phone: (602) 765-4444
Open Hours: Mon – Sat (9 am – 6 pm), Sun (10 am – 5 pm)
Website: http://pawnnowaz.com